Description
Buddha Bar Hotel Paris 5-Night Stay. Paris, France.
Pairing elegant Parisian living with neo-Asian decadence, the Buddha Bar Hotel Paris is a luxurious boutique hotel in the heart of the city's stylish 8th Arrondissement. Guests arriving at this Right Bank hotel find an 18th-century mansion transformed into a dreamlike space decorated with red lanterns, dragon motifs, gold and red lacquered panels, silk linens, and glass mosaics. The hotel's sprawling courtyard features picturesque gardens set amid 2,152 sq ft of space, and it is here where guests can convene and delight in al fresco dining for breakfast or dinner service.
Room Type: Superior 1 Queen
Blackout Dates: January 18-23, May 17-23, June 1-4, July 6-9, September 18-28, December 31.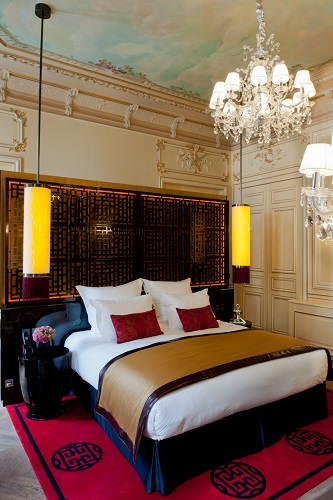 Vendor: Winspire
Special Instructions
Please Note: Stay must occur between July 1, 2019 - June 30, 2020. Stay is for single or double occupancy. Reservations are subject to availability and we recommend booking at least 60 days in advance. All purchases are non-refundable. Extra nights may be available for additional fee. All taxes/resort fees responsibility of purchaser.