Sports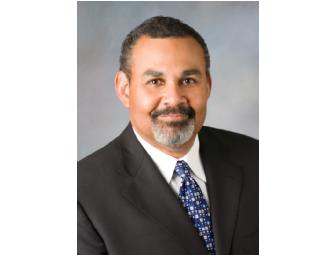 F. David Coleman - Director of Officiating National Football League
Item Number

141
Estimated Value

Priceless

Opening Bid

100 USD
Item Description
(Mr. Coleman is donating one hour keynote on Leadership, Diversity, Talent Recruitment/Management or Officiating in the NFL. High bidder has to cover the cost of a round trip airfare from Newark, NJ and overnight accommodations. Please note Mr. Coleman's time is limited to the "off season" (after Superbowl mid-February until pre-season early August.)
On August 30, 2010, David Coleman was named Director of Officiating at the National Football League. In his current role, David is responsible for the operations and staff management of the Officiating Department, based at NFL Headquarters in New York City.
Previously, David was the Director of Human Resources – North America at Saint-Gobain Performance Plastics in Cleveland, Ohio.
David has 38 years of experience as a Human Resources professional. He joined United States Steel in 2004, serving at the Pittsburgh Headquarters, first as manager of Insurance Benefits for the United States Steel and Carnegie Pension Fund and then as general manager of Diversity and Inclusion. Prior to that he was vice president of Human Resources at Ranpak Corp in Concord Township, Ohio. David served for 22 years in the United States Army, retiring with the rank of Lieutenant Colonel.
David was born in Cleveland, Ohio and was raised in its Mount Pleasant neighborhood. He attended the Cleveland Public Schools and graduated from Hawken School in Gates Mills, Ohio. He received a Bachelor of Science Degree in General Engineering from the United States Military Academy at West Point, New York. David was commissioned a Second Lieutenant in the United States Army Adjutant General's Corps (Personnel Management and Administration). He received a Master of Science Degree in Operations Research from the Weatherhead School of Management at Case – Western Reserve University in Cleveland, Ohio.
During his Army career, he served in the 101st Airborne Division (Air Assault), the 2nd Infantry Division (in Korea), the 3rd Infantry Division (in Germany), the Army Recruiting Command, at West Point and on Department of the Army Headquarters Staff at the Pentagon in Washington, DC.
David is a former Division 1A and 1AA College Football Official. He was a Line Judge in the Mid American Conference (MAC) and a Referee in the Mid Eastern Athletic Conference (MEAC). He was an Instant Replay Official (Video Operator) for the National Football League and was a member of the crew that worked Super Bowl XL in Detroit.
David and his wife, Donna, reside in Newark, New Jersey and maintain strong roots in Cleveland, Pittsburgh and Trinidad. He has a son, Matthew.
Special Instructions
(Mr. Coleman is donating one hour keynote on Leadership, Diversity, Talent Recruitment/Management or Officiating in the NFL. High bidder has to cover the cost of a round trip airfare from Newark, NJ and overnight accommodations. Please note Mr. Coleman's time is limited to the "off season" (after Superbowl mid-February until pre-season early August.)
The executives will meet with the winning bidders at a time convenient to both parties, on or before December 1, 2011, except in the case of some celebrities which may carry over to the first quarter of 2012.
Once the winning bid has been validated and collected, CAAO will request the winning bidder's bio/resume and reason for wanting to meet the executive and communicate that information to the executive. CAAO will also pass on the necessary contact information for the winning bidder to make their appointment.
If the winning bidder cancels or wishes to change the date/time of the meeting once it has been scheduled, the winning bidder will be responsible for contacting the executive to communicate any changes.
The winning bidder is responsible for all travel expenses to attend this meeting.
We accept Mastercard, Visa, Discover, and cash payments