Health & Fitness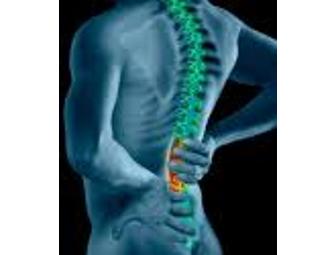 Chiropractic Exam and Adjustment by Kesten Family Chiropractic-Baldwin, NY
Item Number

114
Estimated Value

205 USD

Opening Bid

35 USD
Item Description
You are bidding on a:
Chiropractic Exam and Adjustment by Kesten Family Chiropractic of Baldwin, NY
This Certificate entitles the bearer to a first chiropractic office visit and includes an initial history, chiropractic and applied kinesiology examination, adjusment and the doctor's reports of findings at 2nd visit.
about the doctor
Bruce Kesten, D.C.
Dr. Kesten is a Chiropractor in full time practice in Baldwin, NY. He is a leading expert on health and wellness and speaks and writes regularly to help people make positive changes in their lives.
Dr. Kesten is a Magna Cum Laude graduate of the Palmer College of Chiropractic in 1991. In 1998 he completed post graduate studies in Applied Kinesiology which incorporates chiropractic, muscle testing, nutrition and focuses on connecting physical, chemical and emotional health. In 2002, Dr. Kesten received his certification as a Certified Personal Trainer from the American Council on Exercise and utilizes his knowledge of exercise and rehabilitation with sports injuries.
He is a member of the New York Chiropractic Council, Past President of the Oceanside Rotary Club, member of the Professional Advisory Board of Oceanside High School and Volunteer Chiropractor for the Chiropractic for Humanity program which serves the indigent and homeless in New York City . Dr. Kesten is also the Team Captain/Coordinator for Baldwin 's All Pro Dad group, an organization devoted to fostering father/child relationships in a fun, caring environment.
Dr. Kesten resides in Baldwin with his wife Amy and children, Sarina and Noah.
Dr. Kesten has been a featured speaker for many local civic, religious and business groups and the feedback we've received has been excellent:
"We enjoyed his presentation. He was quite thorough….some of our folks plan to check his practice out"
~ Secretary, Ladies Home League of the Salvation Army
about applied kinesiology
You know your body is different from everyone else's.
Wouldn't it be great if there were a doctor who has the ability to find out what is unique about you and your problems?
Wouldn't it be great if that same doctor could give treatments and lifestyle recommendations which are specific to your particular needs?
There is such a doctor available, and that doctor is an applied kinesiologist.
What is applied kinesiology?
Applied kinesiology (AK) is a form of diagnosis using muscle testing as a primary feedback mechanism to examine how a person's body is functioning. When properly applied, the outcome of an AK diagnosis will determine the best form of therapy for the patient. Since AK draws together the core elements of many complementary therapies, it provides an interdisciplinary approach to health care.
In general, the applied kinesiologist finds a muscle that tests weak and then attempts to determine why that muscle is not functioning properly . The practitioner will then evaluate and apply the therapy that will best eliminate the muscle weakness and help the patient.
Therapies utilized can include specific chiropractic adjustments, various myofascial therapies, cranial techniques, meridian therapy, clinical nutrition, dietary management and various reflex procedures.
In some cases, the examiner may test for environmental or food sensitivities by using a previously strong muscle to find what weakens it.
Applied kinesiology uses the triad of health - chemical, mental and structural factors - to describe the proper balance of the major health categories.
The triad is represented by an equilateral triangle with structural health as its base, and the upright sides representing chemical and mental health. When a person experiences poor health, it is due to an imbalance in one or more of these three factors.
The triad of health is interactive and all sides must be evaluated for the underlying cause of a problem. A health problem on one side of the triad can affect the other sides. For example, a chemical imbalance may cause mental symptoms. Applied kinesiology enables the practitioner to evaluate the triad's balance and direct therapy toward the imbalanced side or sides.
The origin of applied kinesiology is traced to 1964 when George J. Goodheart, Jr., D.C., first observed that postural distortion (for example head tilt, high shoulder, high hip) is usually associated with muscles that test weak. He found that by applying the appropriate therapy, the muscle would test strong and the postural distortion would change.
What is the educational background of an applied kinesiologist?
It takes hundreds of hours of study and years of practice to perfect the multitude of diagnostic techniques that have been developed in AK. In fact, any AK practitioner will tell you that s/he is constantly refining and developing manual muscle testing skills and the interpretation of the test results.
At first glance, muscle testing appears easy, fascinating and impressive. The ability to test muscles, however, requires specific techniques, sensitivity and objectivity. Once the muscle testing skill has been developed, it becomes necessary to interpret the outcome of the test. Interpreting the results requires the years of training that qualifies one as a licensed physician. Therefore, applied kinesiology is only taught to persons licensed to diagnose in the health care field.
To practice AK, one must take a basic course that takes over 100 hours of classroom study and practice to complete. A basic proficiency exam in AK must be passed at the end of the course.
For questions, please contact Dr. Kesten at his office or by email: drkesten@kestenchiro.com.
Thanks for your support of Chiropractic and Applied Kinesiology
Special Instructions
Offer expires December 31, 2010.
Shipping and handling of this item is $1.95.