Art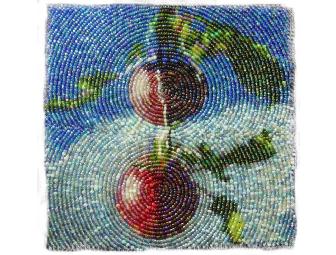 Two Apples Bead Embroidery
Item Number

234
Estimated Value

650 USD

Sold

150 USD to Live Event Bidder
Item Description
Piece 4" x 4", frame is 9.5" x 9.5". Mounted on silk noil fabric, framed with no glass.
Technique: Bead embroidery on silk noil.
Materials: Size 15 Japenese Beads
Through the labor intensive medium of bead embroidery, I use rich color and shiny surfaces to create magical scenes. In these miniature mosaics I attempt to capture thoughts and emotions derived from fairy tales and myths I read as a child, using their characters and symbols to express aspects of myself. I believe these ancient stories contain truths that have been reduced to an essence as they pass from generation to generation.
Stitching down tiny beads, I draw images from my everyday life and my dreams. Apples represent life—they are symbols of corporal sustenance, passion, and desire, as well as earthly connection. They appear throughout mythology and folklore in such stories as Snow White, the Juniper Tree, and the myths of Eve, Persephone, Atalanta, Hesperides, and Helen of Troy. In this piece, the apples hang in a balance of both light and shadow.
Special Instructions
About the artist: Amy Clarke Moore is the editor of Spin-Off and Jane Austen Knits magazines published by Interweave in Loveland, Colorado. She earned her B.A. from Cornell College in Iowa in 1990--majoring in Art, Latin American Studies, and Spanish. In 1997 she earned her M.F.A. in Fibers from Colorado State University's Art department.
Born in 1969 in Boulder, Colorado--the child of a professor of language acquisition and a watercolor artist--Amy grew up in a nurturing environment of literature and visual arts. Her work is born out of a passionate interest in fairytales, myths, and art.
Amy started beading in 1998 to complete a staff project for Beadwork magazine--she was hooked from that moment on. She enjoys the process of stitching the beads to the canvas. She views each bead as a thought and the spiral path of her beadwork is like the passage of time--each moment building on the next until an image emerges. View more of her work at www.amyclarkemoore.com