Art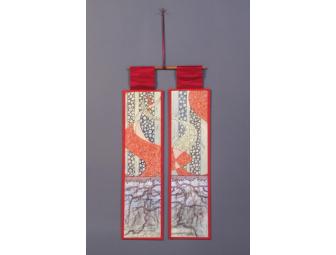 Transformative Balance
Item Number

113
Number of Bids

9 - Bid History
Item Description
Artist: Mary Bee Kaufman
Medium: Panelbook, watercolor, handmade paper,ink, burnt wood ash
Size/Dimensions: 12" x 27"
Artist's Email: marybee@naturephotography.net
Artist's Web Address: www.naturephotography.net
Artist's Phone Number: Home 907-768-2039 or Cell 907-299-2039
Artist's Address: P.O.Box 226, Cantwell, Alaska 99729
Living in the boreal forest, 20 miles from the nearest village, Cantwell, Alaska, provides unique challenges, such as deep snow in winter, large furry beasts wandering near the house, and, in the summer, weather that can turn on a dime into a local fire hazard.
I am a working artist, a naturalist guide and avid birder. The forest is my home and refuge. Endless bogs and duck ponds, lakes filled with migratory birds, wild contorted salmon-laden creeks tumbling through dense willow and alder, mature spruce forest encapsulating all, and heath covered hills rising toward the bare alpine ridges, are my handbook to the natural world.
Special Instructions
Artist's Statement:
"Fire challenges the balance of nature, a balance that hangs tenuously on relationships between the earth and man, the sway of seasons and the weight of time. As a transformative force, from fire destruction begets regeneration and adaptation. As fire scorches the earth it forces a new sense of equilibrium.
It is in the struggle for balance that this piece finds its base.
This panel book hangs on a thread from a man-made wooden tool. It has an overall balance point, but when altered slightly can become unstable. Shapes reflect structure and function in the natural world. There is a separation of earth and fire, a fragile margin where curving shapes are beginning to penetrate toward the broken edge, and in the background a continuing sense of connection in organic shapes with the root character below.
An inherent imbalance between the lower portion and the upper hopefully creates a subtle uneasiness….the push and pull, forces struggling. Yet there is a continuity of movement. Ash was mixed with watercolors to create an uneven and grayed color.
Due to the abstracted design, the pieces can be hung separately, in continuum left to right or visa versa. The variables are many."
Please note: A $15 fee will be added to the winning bid price for shipping and handling.