Art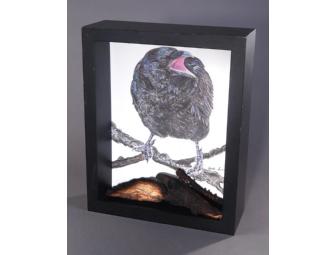 The Survivor
Item Number

125
Number of Bids

12 - Bid History
Item Description
Artist: Beth Surdut
Medium: Art in a shadow box
Size/Dimensions: 3'' deep x 8 ¾" w x 10 ¾" h
Artist's Web Address: www.listeningtoraven.com
Artist's Address: Santa Fe, New Mexico
Please note: A $15 fee will be added to the winning bid price for shipping and handling.
Special Instructions
Artist's Statement:
"The main image is an encapsulated pigment print on archival paper from my Listening to Raven series. The Survivor is a juvenile raven—identified by the pink interior of its mouth-- standing on branches drawn with charcoal from the Colorado fire. In front of the glass is a collection of charred wood from the forests devastated by the flames.
For my ongoing Listening to Raven series of drawings and collected stories of science and spirit, one of the myths I've come across is that Raven was a beautiful white bird who brought fire to humanity. While carrying the burning firebrand across the skies, Raven's white feathers became irrevocably blackened by the smoke as he flew.
Other stories, especially the trickster tales, put Raven in dire circumstances that he really shouldn't survive. Yet he sometimes literally suffers terrible wounds, puts himself back together, and goes on, as we do—changed, but anticipating the next phase of life.
I live in New Mexico, where last year I watched the Las Conchas fire burn in the night sky, destroying thousands of acres of forest where I study ravens, ashes blowing across thirty-five miles to cover my home.
I lived in Florida during Hurricane Katrina, and much like the Ashes to Art Project, I donated the sale of one of my pieces through an auction held to help people devastated by the hurricane. By nature's power and whim, I could just as well have been in their situations. The people in Colorado are my neighbors. The firefighters are my heroes. I just want to help."