Art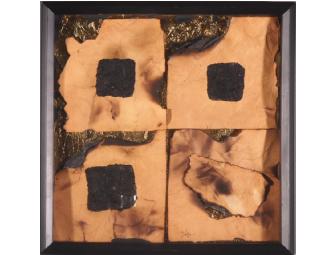 Item Description
Artist: Michelle Venus
Medium: burnt paper, gold leaf, acrylic paint made from ashes
Size/Dimensions: 12" x 12"
Artist's Email: michelle@michellvenus.com
Artist's Web Address: michellvenus.com
Artist's Address: Fort Collins, CO
Michelle Venus is a freelance writer and life-long lover and supporter of the arts. She is currently working on an art book project, and tomorrow comes again, featuring the work of people facing loss of a loved one to suicide and their grief and healing through creating art.
Special Instructions
Artist's Statement:
what is to give light must endure burning
viktor e. frankl
"When tragedy strikes, it seems that happiness, hope and light are unreachable and impossible. but with time and healing, the light does shine again. and with it, comes infinite possibilities.
Inspired by vikor e. frankl's quote, this piece represents the burned pieces left after the high park fire—and the light of hope that will eventually emerge."
Please note: A $15 fee will be added to the winning bid price for shipping and handling.