Art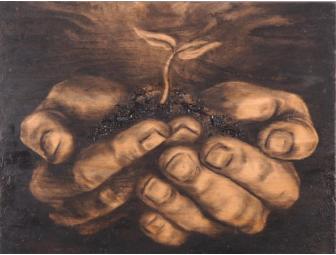 Nature Never Did Betray The Heart That Loved Her
Item Number

140
Number of Bids

55 - Bid History
Item Description
Artist: Morgan Leavitt
Medium: Charcoal & Mixed Media on Wood
Size/Dimensions: 12" x 16"
Artist's Email: leavitt.morgan@gmail.com
Artist's Web Address: PaintEaterArt.com
Artist's Phone Number: 773-370-2939
Artist's Address: 1239 W. Waveland #2, Chicago, IL 60613
Morgan is a Licensed Clinical Massage Therapist and visual artist residing in Chicago, IL. She works primarily in charcoal and mixed media on paper and wood, with a focus on portraiture and the human form. Her work is characterized by subjects captured in dramatic lighting and steeped in atmosphere, yet with a simplicity that manages to articulate a multi-layered story and saturated emotional response.

Special Instructions
Artist's Statement:
"When I first heard of The Ashes To Art project, I had been experiencing an intense case of "artist's block." I had thrown myself into my work as a Clinical Massage Therapist, healing those around me who experienced the distress of trauma, injury and chronic pain. Some of those patients were from the Chicago Fire Department. So when given the opportunity to utilize my hands and skills in an alternative way, and give back to another group of firefighters, I worked through the block and created my first painting in over a year. Upon receiving my gift of charcoal from the forests of Colorado, the image of renewed hope revealed itself as I held the charred pieces of wood in my hands. The charcoal told me stories of trauma. My goal was to be able to visually translate the emotion I sensed from those stories and help facilitate the process of healing for others."
Please note: A $15 fee will be added to the winning bid price for shipping and handling.