Books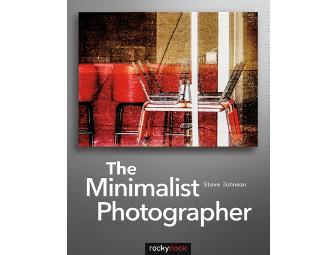 "The Minimalist Photographer" (Print Version)
Item Number

171
Estimated Value

40 USD

Sold

26 USD to cjo30080
Number of Bids

3 - Bid History
Item Description
The Minimalist Photographer - a 192 page book.
The Books Current Introduction:
A short while after I first became interested in photography I came up against a problem that almost made me put my camera away forever. I have come to realize through countless discussions with many others that I was far from unique in having this problem and that it was very common among those who took or wanted to take photography seriously. The problem can be summed up in two words: "What now?" Although I knew that I wanted to make images and that the camera seemed like the ideal tool, I could not generate any real enthusiasm.
To find photographic fulfillment I bought camera equipment and photography magazines, read technical discussions by famous photographers and attended every photography exhibition within a fifty mile radius of wherever I was at the time. This did little more than fill up my camera bag and bookshelf and deplete my wallet. None of this advanced my photography in any meaningful way.
After becoming competent with a new lens or learning a new technique I always found myself returning to the question, "What now?" I gradually came to realize that the answer did not lie in acquiring more but rather in rethinking my relationship with photography.
To cut a long story short, I realized that I needed to bring a philosophy to my photography rather than approach it as a blank slate.
This is where Minimalism comes in. There are many definitions of Minimalism, all revolving around the idea of less and how best to achieve it. This is true whether the subject under discussion is fine art, lifestyle or just about anything else. All have one thing in common, though, and that is that the process is not random, it is not simply a matter of getting rid of a certain percentage of something and hoping for a worthwhile result. The objective is always to remove the non-essential in order to get to what is essential.
It is easy to see how a minimalist philosophy can be applied to an area such as composition as it dovetails perfectly with the idea that visual clutter should always be reduced as far as possible. Less obvious areas where a minimalist approach would serve the photographer well are equipment choices, an understanding of the history of photography and even the possible future of photography. I do not think that there is any aspect of photography or the development of the photographer that does not benefit from this reductionist approach.
The upshot of this approach is that "What now?" has been replaced by a different question, "What next?" There are now always half a dozen photography projects that I am enthusiastic about tackling at any given time. The realization that I had to bring a philosophy, a belief system, to photography and that the best philosophy was Minimalism underpins this book, and it is that idea I am excited to be able to share with you.
Special Instructions
The book is due for release in April 2013. The copy on offer is one of the ones that I will receive in Spring 2013 as part of the publishing deal. I will sign it as the buyer requires and send it out within 24 hours of recieving it.
Donated By: