MONET, Claude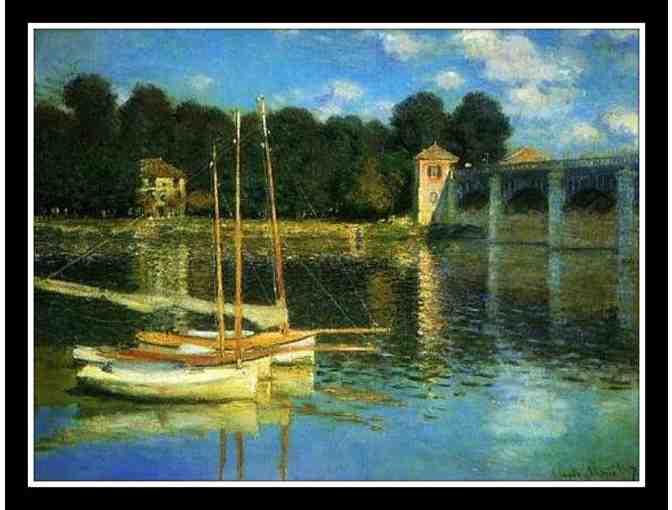 "THE BRIDGE AT ARGENTEUIL" by Claude Monet: A3 Giclee Print or LARGE CANVAS PRINT!
Item Number

543
Estimated Value

Priceless

Opening Bid

$36 USD
Item Description
TWO OPTIONS: Limited Edition Giclee Print OR ..LARGE CANVAS PRINT!

#1

Limited Edition Giclee Print
Size: 13" x 19" (with border)
Status: Unframed

GALLERY LIST PRICE: $100-$150.00

Each reproduction is created using UV stable pigment based archival inks on Premium Picture paper, designed for the highest quality professional images, color intense, 10 mil, heavy weight, water resistant, acid-free. This unique paper provides instant drying and water resistant properties, eliminates smudging and fading, while the acid-free base materials ensure that each Inkjet Giclee print will still look great years from now.

What is the difference between a GICLEE Print

and a Poster or Standard Quality "ART PRINT"?

SURFACE: ALLOWS MUCH MORE INTENSITY of COLOR SATURATION! Posters and typical art prints use less expensive papers that do not absorb the vibrant intensity of the artists' application of colors. GICLEE PRINTS as described above DO!!

NUMBER OF INKJETS and TYPE of INKS used: A typical print; even most lithographs are produced with a limited number/range of color inkjets. Using archival inks and a much more effective replication process with more inkjets and colors; the variables and details of each work are much better represented in accordance with how the original artist painted them.

#2!

LARGE CANVAS PRINT!!

NOTE: USE THE BUY NOW OPTION TO PURCHASE A LARGE CANVAS PRINT!:

LARGE CANVAS PRINT: APPROXIMATELY 30X40": $399.00 including all shipping and handling, processing fees and performance fees

*sizes vary slightly in accordance with the original work dimensions.

More details and options!

PLEASE TAKE A FEW MOMENTS TO VISIT OUR AUCTION HOME PAGE! Click here to see hundreds and hundreds of awesome offerings ON AUCTION NOW!

*INSURED FEDERAL EXPRESS SHIPPING FOR A3 GICLEE PRINTS: $29.95

* BIDDING FOR GOOD "PERFORMANCE FEE": 9%

* CREDIT CARD PROCESSING FEE: 4%

NOTE!! The "GOOD NEWS":

USE THE BUY NOW OPTION AND YOU CAN CHOOSE UP TO FOUR A3 PRINTS IN THIS SEGMENT AND PAY ONLY ONE SHIPPING FEE OF $39.99

Performance Fees and CC Processing fees are waived when you choose the BUY NOW option for a Large Canvas Print!

* In accordance with California State Law, SALES TAX APPLICABLE ONLY FOR CALIFORNIA RESIDENTS

ALLOW 2-3 weeks for delivery of Large Canvas Prints!

ABOUT THE ARTIST: CLAUDE MONET

Claude Monet was a famous French painter whose work gave a name to the art movement Impressionism, which was concerned with capturing light and natural forms.

Claude Monet was born on November 14, 1840, in Paris, France. He enrolled in the Academie Suisse. After an art exhibition in 1874, a critic insultingly dubbed Monet's painting style "Impression," since it was more concerned with form and light than realism, and the term stuck. Monet struggled with depression, poverty and illness throughout his life. He died in 1926.
Early Life and Career
One of the most famous painters in the history of art and a leading figure in the Impressionist movement, whose works can be seen in museums around the world, Oscar Claude Monet (some sources say Claude Oscar) was born on November 14, 1840, in Paris, France. Monet's father, Adolphe, worked in his family's shipping business, while his mother, Louise, took care of the family. A trained singer, Louise liked poetry and was a popular hostess.
In 1845, at the age of 5, Monet moved with his family to Le Havre, a port town in the Normandy region. He grew up there with his older brother, Leon. While he was reportedly a decent student, Monet did not like being confined to a classroom. He was more interested in being outside. At an early age, Monet developed a love of drawing. He filled his schoolbooks with sketches of people, including caricatures of his teachers. While his mother supported his artistic efforts, Monet's father wanted him to go into business. Monet suffered greatly after the death of his mother in 1857.
In the community, Monet became well-known for his caricatures and for drawing many of the town's residents. After meeting Eugene Boudin, a local landscape artist, Monet started to explore the natural world in his work. Boudin introduced him to painting outdoors, or plein air painting, which would later become the cornerstone of Monet's work.
In 1859, Monet decided to move to Paris to pursue his art. There, he was strongly influenced by the paintings of the Barbizon school and enrolled as a student at the Academie Suisse. During this time, Monet met fellow artist Camille Pissarro, who would become a close friend for many years.
From 1861 to 1862, Monet served in the military and was stationed in Algiers, Algeria, but he was discharged for health reasons. Returning to Paris, Monet studied with Charles Gleyre. Through Gleyre, Monet met several other artists, including Auguste Renoir, Alfred Sisley and Frederic Bazille; the four of them became friends. He also received advice and support from Johann Barthold Jongkind, a landscape painter who proved to be an important influence to the young artist.
Monet liked to work outdoors and was sometimes accompanied by Renoir, Sisley and Bazille on these painting sojourns. Monet won acceptance to the Salon of 1865, an annual juried art show in Paris; the show chose two of his paintings, which were marine landscapes. Though Monet's works received some critical praise, he still struggled financially.
The following year, Monet was selected again to participate in the Salon. This time, the show officials chose a landscape and a portrait Camille (or also called Woman in Green), which featured his lover and future wife, Camille Doncieux. Doncieux came from a humble background and was substantially younger than Monet. She served as a muse for him, sitting for numerous paintings during her lifetime. The couple experienced great hardship around the birth of their first son, Jean, in 1867. Monet was in dire financial straits, and his father was unwilling to help them. Monet became so despondent over the situation that, in 1868, he attempted suicide by trying to drown himself in the Seine River.
Fortunately, Monet and Camille soon caught a break: Louis-Joachim Guadibert became a patron of Monet's work, which enabled the artist to continue his work and care for his family. Monet and Camille married in June 1870, and following the outbreak of the Franco-Prussian War, the couple fled with their son to London, England. There, Monet met Paul Durand-Ruel, who became his first art dealer.
Returning to France after the war, in 1872, Monet eventually settled in Argenteuil, an industrial town west of Paris, and began to develop his own technique. During his time in Argenteuil, Monet visited with many of his artist friends, including Renoir, Pissarro and Edouard Manet—who, according to Monet in a later interview, at first hated him because people confused their names. Banding together with several other artists, Monet helped form the Societe Anonyme des Artistes Peintres, Sculpteurs, Graveurs (the Society of Anonymous Painters, Sculptors, and Printers).
Monet sometimes got frustrated with his work. According to some reports, he destroyed a number of paintings—estimates range as high as 500 works. Monet would simply burn, cut or kick the offending piece. In addition to these outbursts, he was known to suffer from bouts of depression and self-doubt.
ART+more4Good stores data...
Your support matters, so ART+more4Good would like to use your information to keep in touch about things that may matter to you. If you choose to hear from ART+more4Good, we may contact you in the future about our ongoing efforts.
Your privacy is important to us, so ART+more4Good will keep your personal data secure and ART+more4Good will not use it for marketing communications which you have not agreed to receive. At any time, you may withdraw consent by emailing Privacy@frontstream.com or by contacting our Privacy Officer. Please see our Privacy Policy found here PrivacyPolicy.