Art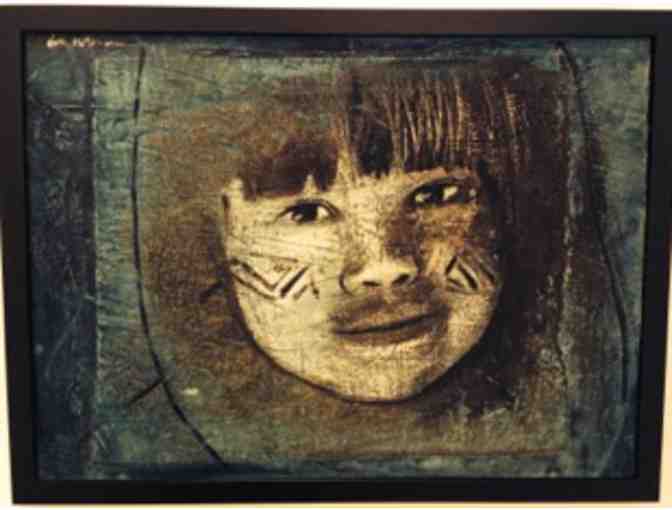 "ECLIPSE" by artist Elon Brasil (painting)
Item Number

106
Estimated Value

6000 USD

Opening Bid

3000 USD
Item Description
"ECLIPSE" also includes an Elon Brasil signed book of his paintings.
Artist, Élon Brasil
Painting, 29 in. x 22in, Oil on Canvas, + 1 Élon Brasil book of his paintings
Élon Brasil (Brazilian, b.1957) is a self-taught plastic artist, born on the beach of Jurujuba, Niterói, in the state of Rio de Janeiro, where, at the age of six, he first started sketching. The artist's mixed cultural heritage, which includes Brazilian Indian, African, Italian, and Portuguese roots, serves as the inspiration for much of his work. The artist has also been inspired by his time spent living with indigenous tribes in the Amazon, and in Benin, Togo, and Ghana, in Africa.

His brightly colored figurative work is comprised of images of Indians, Afro-Brazilians, and Caboclos, as well as the landscapes they inhabit. His themes aim to emphasize and preserve Brazilian culture, as well as his own roots.

He became known internationally while living in Switzerland, where he had several exhibitions, and received prestigious commissions from European collectors. Today, his work is shown in cities around the world, including in Brazil, Europe, and North America.
Exhibitions:
2009

Élon Brasil Exhibitions in 2009:
Latin-America Maison, Monte Carlo, Mônaco
Braciccarte Cultural Institute, Las palmas de Gran Canaria, Spain

2008

Élon Brasil Exhibitions in 2008:
Tropics: A Contemporary view of Brazil, Cuba and Haiti, Department of Cultural Affairs & Los Angeles Municipal Art Gallery, Los Angeles, California, USA),União Cultural Brasil-Estados Unidos, Indianity, São Paulo, Brazil Luroa Art Gallery, Las Palmas, Spain

2007

Montreaux International Artists Exhibition, Switzerland

2006

Élon Brasil Exhibitions in 2006:
Quinta Pitanga Collection, Los Angeles, California, USA
Bank BNP Paribas of Brazil, São Paulo, Brazil

2005

The Embassy of Brazil, Gallery 32, London, England
Special Instructions
Includes Élon Brasil book of his paintings