Travel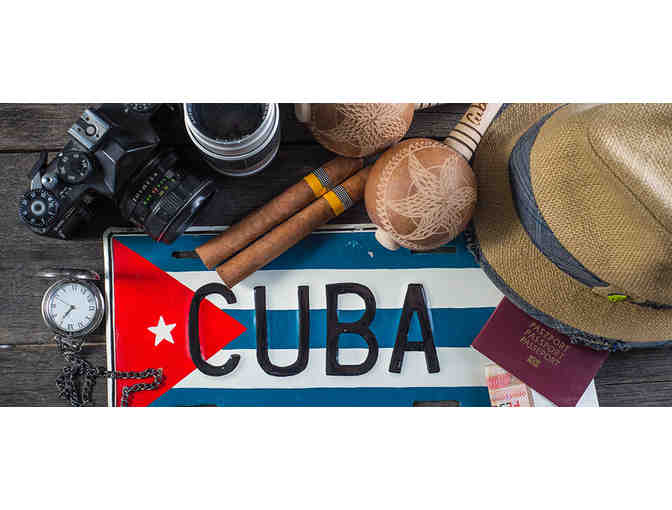 Havana Highlights
Item Number

330
Estimated Value

Priceless

Opening Bid

7000 USD

Next Minimum Bid

7000 USD
Time Left

12d 1h

Online Close

2018-01-28 23:54:00.0 - Bid Extension
Item Description
Private Tours, Hemingway Excursion, 4-Night Stay at Top-Rated Hotel for 2
This Experience Includes:
4-night stay at Iberostar Parque Central or Hotel Saratoga for 2 (Havana, Cuba)
Private City Tour in a Vintage Car
Hemingway Excursion
Private Jeep Tour to Vinales Valley
VIP Airport Meet & Greet and transfers
Winspire booking & concierge service
'Bienvenido!' to Cuba's capital. Havana is a colorful, eclectic metropolis, one of the most intriguing cities in the world. Thinking about taking a trip to Cuba but not sure where to start?
Socialites and celebrities flocked to Cuba in the 1950s when it was a playground for the likes of Ava Gardner, Frank Sinatra and of course, Ernest Hemingway. For years, tourists – mainly from Europe and Canada – have enjoyed the island's beaches, culture and cuisine. In recent months, the doors have swung open wide for American tourists and it seems like everyone knows someone who has been recently or wants to go. Whereas fully-guided group tours to Cuba have been permitted for some time, in March 2016, the U.S. Government significantly eased travel restrictions, making Cuba more accessible by allowing U.S. citizens to make "individual people-to-people educational trips" to the island.
This trip's itinerary meets the criteria of an educational trip by introducing you to the culture of Cuba through guided visits to the most popular sites, while allowing flexibility for you to have time to explore and customize your experience.
Iberostar Parque Central or Hotel Saratoga
Enjoy a 4-night stay for two in a standard room at one of the best hotels in Havana, based on availability. Among the top rated Havana hotels by Conde Nast Traveler, these properties are located in the heart of the vibrant city. These beautifully restored buildings have some modern touches. While not luxurious by North American standards, these hotels are where discriminating travelers stay while visiting Havana.
Blackouts: December 5 – January 5
Private City Tour in a Vintage Car
Your 3-hour guided tour begins with a ride in a classic vintage car from the '50s. Your driver will take you on a "panoramic tour" of Havana, a perfect introduction to the city and its many landmarks. Enjoy the Malecon, the beautiful seaside boulevard in Havana and Miramar, Havana's most upscale residential area. Its stately avenues are lined with embassies, mansions and towering flowering trees. You will see The Revolution Square (Plaza de la Revolucion), commemorating the triumph of the Cuban Revolution. Then stroll along narrow colonial streets through historical "La Habana Vieja". Founded in the 16th century, today this area is an incredible open air museum of architecture, art and culture.
Hemingway Excursion
After pick up at your hotel, you will journey to Finca Vigia, the former residence of the prominent American writer. Next stop is Cojimar, where Hemingway was inspired to write "The Old Man and the Sea". A walking tour takes you to his statue, made from old anchors, props and tools salvaged by local fisherman. Enjoy lunch at Las Terrazas, Hemingway's favorite local restaurant (lunch and a cocktails included). From here, return to the city to follow Hemingway's trail in Old Havana, having a peek at room 511 in Hotel Ambos Mudos, where Hemingway used to stay in the 1930s.
Hemingway lived in Cuba on and off for 20 years and is where he wrote his novel "The Old Man and the Sea", for which he received the Pulitzer Prize in 1953. A year later he was awarded the Nobel Prize for Literature. When receiving this prize, he declared that it belonged not to him, but to Cuba.
Private Jeep Tour to Vinales Valley
Embark on a 9-hour journey with your private chauffeur and multilingual guide to one of Cuba's most fertile areas and where some of the world's best tobacco is grown. In 1999, the Vinales Valley was designated a UNESCO World Heritage site. The valley is lovely, with rich, red earth and majestic palm trees, surrounded by robust capped mountains. Visit "Casa del Veguero" (the Tobacco Farmer's House), surrounded by tobacco plantations, for a mini-education on the subject. Enjoy a boat trip on a river through a cave as you learn about the evolution of life in the area and are treated to an awe-inspiring panoramic view. Observe the peaceful life of villagers in rural Cuba. Lunch at a private restaurant is included.
Airport VIP Meet & Greet
Upon your arrival at Havana International Airport, you will be met at the gate and directed to Preferential Immigration, the customs booth for diplomats and airline crew. Relax at the VIP Lounge while your luggage is taken care of, then depart for your hotel by private transfer.
Airfare is not included; information about commercial and charter flight options will be provided.
Winspire Booking & Concierge Service
Winspire provides a team of seasoned travel professionals who will help you redeem your experience. All travel related details and reservations are handled for every part of your Winspire experience. Operating as a full-service travel agency, Winspire can assist with extra hotel nights, airfare upgrades, and additional guests. This service also provides you with an established network of onsite contacts who can help you book additional experiences, activities and tours.
ADDITIONAL INFORMATION:
Must be booked a minimum of 60 days in advance. Reservations are subject to availability. Certificates cannot be replaced if lost, stolen or destroyed. All purchases are non-refundable. Packages cannot be resold. Ground transportation is not included unless where specified.
Special Instructions
Winning Bids Over $500 Automatically Receive Our Featured Grill Box of Beef!!!!!
Exceptional Quality: The beef is sourced from a collection of small grass-fed farms. It's of the utmost quality and tastes incredible. Our steak won a blind taste test cook off with the Today Show in 2015.
Grill Box

Includes:
Burger Patties - 6x1/3lb
Uncured Sugar Free Bacon - 10oz
Drumsticks - 3x1lb
Bone-In Chops - 2x10oz
Baby Back Ribs - Whole Rack
NY Strips - 2x10oz
Free Shipping