Travel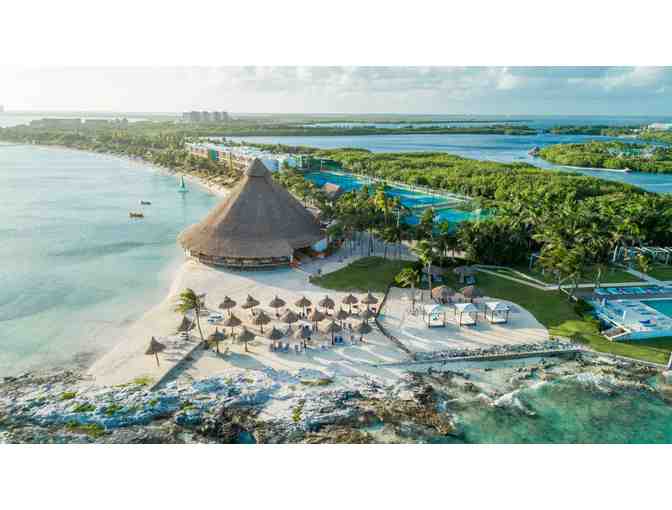 7 day luxury resort getaway to Mexico
Item Number

403
Estimated Value

4500 USD

Sold

2900 USD to js45ae84b
Number of Bids

17 - Bid History
Item Description
The winning bidder will receive one luxury hotel deluxe Jacuzzi suite for 7 days, accommodating up to 4 people at the Presidential VIP level of participation at a Palace Resort all-inclusive property. The room will either have one king size bed or 2 double beds, including wet bar, in room Jacuzzi, balcony, and other luxury accommodations.
The resorts include fine dining, top shelf drinks, night life and entertainment, numerous pools, beach access, and many other ammenities. Each property has a different allure and size. Some are well suited for families with children, some are dynamic and focus on young adults, and some are adults only for those choosing quieter vacations.
The available resorts can be chosen from the following list of Palace Resort properties:
· Beach Palace, Cancun Mexico
· Sun Palace, Cancun Mexico
· Isla Mujeres Palace, Cancun Mexico
· Grand Moon, Cancun Mexico
· Sunrise Palace, Cancun Mexico
· Nizuk Palace, Cancun Mexico
· Cozumel Palace, Cozumel Mexico
· Playacar Palace, Playa del Carmen Mexico
CONDITIONS: this offer must be redeemed prior to March 4, 2019. Black-out dates for this offer are December 1, 2018 – January 5, 2019. The winning bidder will meet with the donor to arrange schedule and details. All-inclusive fees are paid to the resort at the time of reservations.
A one week stay in the room (Retail value ~$4,500) is provided in this auction. The winning bidder will be responsible for:
1) A $99.00 booking fee
2) Air travel to and from the resort
3) All inclusive fee for all guests (covers all food and beverages including alcohol during your stay.)
a. The price for the all-inclusive fee varies with market but, as a point of reference, the fee was $1,400 per person in January 2018.
b. Under this offer, the all inclusive fee for children is waived – they can eat and drink for free.
The room comes with $1,500 in complimentary room credits (some spending limits per event apply and actual available options vary for each resort property). As an example, at Grand Moon (5 star resort) they include (see attached brochure):
o A full service luxury beauty spa
o 27 hole Jack Nicklaus Golf course, including the possibility of negotiating unlimited golf depending on time of year and availability
o Scuba tours, dolphin swim, special dinners, jungle tours, Cenote journeys, zip lines and more
o Day trips to: Isla Mujeres, Mayan pyramids at Chichen Itza, Tulum, and others
There are no additional requirements placed on the winner while at the resort. e.g. guests do not have to attend a sales presentation or other inconveniences (although they are free to arrange one if they like the resort and are interested in becoming members).
Special Instructions
Website:

https://www.moonpalace.com/en-us
Room credit brochure:

https://www.palaceresorts.com/rcbrochure?__hstc=105095772.f30e9a154945f18076f25f88e446ab4b.1512752754393.1512752754393.1512752754393.1&__hssc=105095772.6.1512752754393&__hsfp=2141839581
Aerial photos:

https://images.search.yahoo.com/search/images;_ylt=A0SO8xqOyypaVLYA27dXNyoA;_ylu=X3oDMTE0dGlrcGtiBGNvbG8DZ3ExBHBvcwMxBHZ0aWQDQjQ2NzBfMQRzZWMDcGl2cw--?p=moon+palace+cancun+aerial+photo&fr2=piv-web&fr=tightropetb#id=2&iurl=https%3A%2F%2Fc2.staticflickr.com%2F8%2F7412%2F9617991600_cc3fd1e2c9_b.jpg&action=click

https://images.search.yahoo.com/search/images;_ylt=A0SO8xqOyypaVLYA27dXNyoA;_ylu=X3oDMTE0dGlrcGtiBGNvbG8DZ3ExBHBvcwMxBHZ0aWQDQjQ2NzBfMQRzZWMDcGl2cw--?p=moon+palace+cancun+aerial+photo&fr2=piv-web&fr=tightropetb#id=4&iurl=http%3A%2F%2Fwww.playadelcarmen.com%2Fblog%2Fwp-content%2Fuploads%2Fmoon-palace-aerial-view-1024x576.jpg&action=click