BIDS BUILD HOPE Auction is CLOSED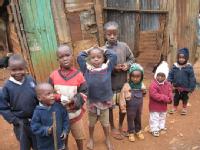 BIDS BUILD HOPE is now closed. Thank you to all of our generous bidders, donors, supporters, sponsors and promotional partners for helping making this auction a huge success! Although the auction is over, our mission is not. To stay updated on our projects and upcoming events, please sign up for our Mailing List, join us on Facebook (group and fan page) and follow us on Twitter.

NextAid's mission is to improve the lives of children and youth in Africa by promoting and implementing sustainable solutions. NextAid raises awareness for, and partners with, community-based projects and grassroots organizations in Africa and believes that an integrated approach is the best formula for establishing real and lasting change. Through music events and public education initiatives, NextAid provides empowering opportunities for concerned individuals to make a difference - http://nextaid.org.
Kawangware Vision Center, Kenya - NextAid has partnered with the inspiring community-based organization to build a "green" workshop and multipurpose facility for their youth programs and micro-business that strive to get youth off the streets by offering economic and performance activities, such as making gift bags to sell to the safari tourism industry. The profits enable the youth to support themselves, as well as, the vulnerable and orphaned children in the community. Learn more about the project at www.nextaid.org/kawangware.htm.
goGogetters program, South Africa – goGogetters is a loveLife program empowering South African grandmothers (gogos), who have dedicated their senior years to the wellbeing of orphaned and vulnerable children, as they fight to protect a social fabric left devastated by HIV/AIDS. NextAid is raising funds for the schooling needs of the youth who participate in the program. Learn more the program and the amazing gogos at http://nextaid.org/sendachildtoschool.htm