Live Event
Fri Mar 11, 2011
7PM - 7PM EST
Reid & Fiorentino Call of the Game Dinner & Celebrity Golf Classic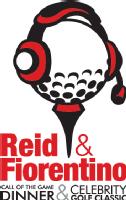 Bid on a fantastic selection of travel packages, sports memorabilia, tickets to events, restaurant experiences and much more! At the heart of our events are two charities, Lauren's Kids and the Dade Schools Athletic Foundation (DSAF). Both charities benefit from the net proceeds of the Reid & Fiorentino events.
We would appreciate you assistance in helping us secure unique and special items for the auction. We are using our best efforts to make sure that the auction items have broad appeal that will motivate our event guests to aggressively bid.

Auction Donors will receive name/logo recognition in the online auction page that will be hyperlinked to your company's website. Donors will also receive name/logo listing on event signage as well as on auction display materials.
You can show your support by clicking on the "Donate Items" button to contribute to our catalog or contact Alex Durant- 305-785-3393 or alex@durantconsulting.com
Proceeds to Benefit:
AUCTION WATCH: Featured Items
Lauren's Kids' mission is to prevent sexual abuse through awareness and education, and to help survivors heal with guidance and support. It is the creation of child abuse victim, survivor and Elementary school teacher Lauren Book. This 501(c)(3) organization educates adults and children about sexual abuse topics through an in-school curriculum, maintains a 24-hour Crisis Hotline and offers speaking engagements around the country. Educational seminars and workshops help create more awareness of sexual abuse laws, offer legal counsel and provide guidance on how and where to file complaints. The ultimate goal is to raise funds for the creation of a Crisis Center for Children and their families who are coping with the aftermath of sexual abuse.

The Dade Schools Athletic Foundation is a 501(c)(3) created in 1994 through the Miami Dade County School Board to allow the private sector to support and augment the athletic programs in the Miami-Dade County Public School system. Miami-Dade schools operate their athletic programs with very few actual tax dollars with the majority of funds being raised by the principals, athletic directors and coaches. Every school has been forced to eliminate programs and severely restrict the number of students who can participate in athletics at every level. Funds raised by the Foundation are passed on directly to Dade County public high schools as well as middle school athletic programs to provide grants for the purchase of equipment, uniforms, and training aids. In addition, the DSAF annually provides scholarships for outstanding student-athletes.
We would like to thank our sponsors...