Auction is now closed! Thank you to all who participated.
ABOUT WISH UPON A WEDDING
Wish Upon a Wedding is the world's first nonprofit organization to provide weddings & vow renewals to couples facing terminal illness, regardless of sexual orientation. With 20 chapters nationwide and 30 wishes granted to date, we don't believe anyone should have to put aside their wedding plans when life presents extreme challenges. We offer free-of-charge weddings to couples in need.
TAX & OTHER INFORMATION
Most donations are tax deductible. However, we recommend that you speak to an accountant for clarification. Wish Upon a Wedding is a 501 c 3 tax-exempt organization, organzied exclusively for charitable purposes.
TERMS & CONDITIONS- Read prior to bidding or donating an item!
Bidding Ends October 31st!
In Lieu of Gifts Post Cards (free)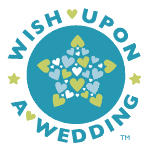 Proceeds help make Wishes come tue!
In Lieu of Gifts or Favors / Charity Weddings
Become a Sponsor
If you or your organization would like to become a sponsor please complete our simple form and we will contact you.