Top Bidders
lemoncello

$817

hpgardner

$625

loandbehold

$334

studentartistsaregreat

$310

dharrington

$240
New Outlook's online auction is open! Let the bidding begin!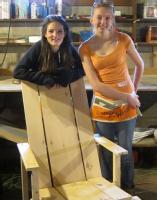 New Outlook's Adirondack Chair Auction is now open! We will be accepting online bids from 9:00 am on July 2, 2011 until 9:00 pm on July 16, 2011. Each year, New Outlook provides hundreds of local teens with high-quality educational, recreational, and prevention programming. All proceeds from the auction will support our after-school and summer adventures programs.
The Project: New Outlook's First Annual Adirondack Chair Auction has been as much about the process as it is about raising money! This past April, 14 members of New Outlook's Young Women's Adventure Group spent two full days building the Adirondack chairs under the guidance of the Girls at Work Program. Girls at Work is a NH-based organization dedicated to empowering young women through woodworking and carpentry. Working in pairs, the girls sawed, hammered, nailed, and sanded their chairs into life! The building process was transformational for all involved.
The Artists: The second phase of the Adirondack chair project involved a group of talented local artists who spent countless hours painting each chair into a finished product! The end result is a beautiful collection of unique pieces of original, yet functional, art. More information about the artists, their personal styles, and their artistic visions can be explored at the location of each chair as well as on our auction website.
The Business Sponsors: In addition to the many artists who donated their time and expertise, we are grateful to the local businesses who have agreed to "host" our chairs during the auction period. Please take the time to visit one of our business sponsors, see the chairs up close, and admire the artistry!
Purchasing a one-of-a-kind chair is a simple way to support the healthy development of our local youth while providing you with a remarkable accent for your home or garden. Please spread the word and tell your friends, family, and community. Let the bidding begin!
Thank you to our generous sponsors!
AUCTION WATCH: Featured Items
Get ready to point, click and bid!
Winning bidders can pick up their chairs at New Outlook, 120 Front St. Exeter, NH on Tuesday July 19th. Good Luck!


We would like to thank our business sponsors...