Live Event
Sat Dec 10, 2011
5PM - 5PM EST
ONE DAY LEFT!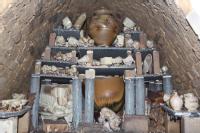 The Watershed 25th Anniversary Invitational Wood Fire Auction is nearing the end. The auction will close on Saturday, December 10th at 10am EST, so make your bids now.
The Pot Raffle will take place on December 10th at the opening of the Watershed Benefit Wood Fire Exhibition at Gustin Gallery in Dartmouth, MA. We're selling 150 tickets, so get yours now, you don't need to be present to participate! A Watershed Board member will pick a piece when your number is called and we'll send it to you.

Tickets can be purchased by clicking on the Order Events Tickets button below.
(We only have 3 tickets left for on-line sales! Don't wait until it's too late, order now. A limited number of tickets will be available at the door on the night of the event)
Help support the ceramic arts. Proceeds from the on-line auction will support the facilities and programs of the Watershed Center for the Ceramic Arts.
Don't miss these great pieces!