Let the Bidding Begin!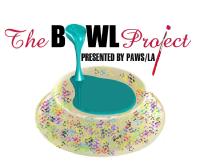 The BOWL PROJECT AUCTION is now open!
The auction will run until December 16, 2011, with proceeds going to PAWS/LA in order to support pets and people in need.
Funds generated from the purchase of our celebrity dog bowls will help PAWS/LA's programs to help low-income elderly and people debilitated by life-threatening illness keep and care for their beloved companion animals.
Services provided include veterinary care, pet food and supplies, and services for homebound animal guardians such as dog walking, pet food delivery and pet transport--all at no charge.
Your purchase WILL make a difference!
Pets and people...better together!!
Get ready to point, click and bid!
One of the best things about participating is what you get when you give. All you have to do is point, click and bid! From great electronics gear to once-in-a-lifetime experiences, this is the place to get in on all the online auction action!