Top Bidders
jenvshipman

$90

seoulnite

$75

spices

$75
Philly Style UnWrapped
Bringing Food, Fashion and Philanthropy Together
McDonald's of the Greater Philadelphia Region, the Philadelphia Ronald McDonald House and Bloomingdale's are combining food, fashion and philanthropy to bring to you some of this season's hottest fashion trends.
On Thursday, May 16th McDonald's and Bloomingdale's premiered the Premium McWrap inspired fashion line. Designed by local Philadelphia fashion designers, these wrap dresses are the perfect addition to your spring and summer wardrobe.
Designers such as Kristin Haskin Simms, a local Philadelphia based designer, founder of Krysi and previous contestant on Project Runway, Season 8, created a custom made wrap dress perfect for the on-the-go woman. Nicole Haddad, the Brazilian designer behind the brand Lobo Mau, offered up her take on McDonald's new and old, in her McWrap classic wrap dress. Nicole Fisher, who has designed for brands such as QVC, Urban Outfitters and Free People, is showcasing her convertible jumpsuit collection. Mah-Jing Wong's took his inspiration from a mix of Japanese Pop Art and New York street styles when it came to his "Sweet Chili" wrap dress. Latifat and Moriamo, the sisters behind the brand Aso Damisi added a little bit of flair to their dresses by incorporating their signature African prints. And finally Patricia Stewart, the designer and creator of Chino Designs, created her McWrap inspired dress to fit and flatter a plus size silhouette.
And all of these designs can be yours! Each custom made Premium McWrap inspired dress is for sale, with 100% of the proceeds benefiting the Philadelphia Ronald McDonald House. The auction is open until May 23rd and winners will be notified by Friday, May 24th.
Ronald McDonald House Charities of the Philadelphia Region, Inc., is a non-profit, 501 (c) (3) corporation that creates, finds and supports programs that directly improve the health and well being of children. In the Philadelphia Region, RMHC supports four Ronald McDonald Houses; 13 Ronald McDonald Family Rooms; RMHC Scholarships for high school seniors; the Ronald McDonald Care Mobile operated by St. Christopher's Foundation for Children, and non-profit organizations benefiting children through grants.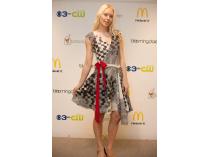 Lobo Mau McWrap Dress, by Nicole Haddad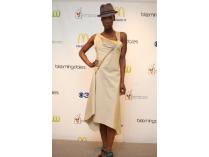 McWrap Inspired Wrap Dress, by Kristin Haskin Simms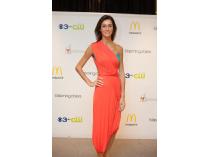 McWrap Jumpsuit, by Nicole Fisher