Live Event
Sat Dec 14, 2013 10:30 PM -
Sun Dec 15, 2013 1AM EST
Fairmont Orchid - Kohala Coast Hawaii
1 North Kaniku Drive Kohala Coast Hawaii Hawaii, United States 96743
Top Bidders
Derek12

$1,602

cm433eb84

$570

lcd9236df

$550

mf5b258e4

$550

laca56153

$403
Christmas at The Fairmont- Dining with the Chefs
Event & Fundraiser Auction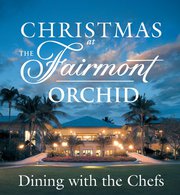 Marking its 25th year, Christmas at The Fairmont-Dining with the Chefs Presented by the American Culinary Federation (ACF) Kona Kohala Chefs Assn., the festive gala benefits local culinary scholarships and is held in the Grand Ball Room at The Fairmont Orchid, Hawaii. Twenty top Hawaii chefs and confectioners use primarily locally sourced ingredients to prepare tantalizing cuisine all accompanied by handcrafted ales, wines and 100 percent Kona coffee. Attendees can enjoy an advanced on-line auction, live music and an event silent auction of exclusive, private dinner parties and receptions professionally hosted by local chefs.
Gingerbread houses made by students under the direction of Chef Fernand Guiot will be on display.
Starting on November 25, 2013, ACF Kona Kohala Chefs Association will be auctioning off a number of fun and unique items to bid on to raise money for our organization - and the more items we have the more money we can raise, so we're asking for your help.

Show your support by clicking on the "Donate Items" button to contribute to our catalog.

Give a little and get a lot in return.
Whether you have 1 item or 100 to contribute, your participation is an invaluable part of our fundraising efforts. By donating an item or service directly online, you'll be helping to raise money for our organization, and you'll receive a mention on our site that can link back to your own web page.
Register early for auction MOBILE BIDDING
with your smart phone or mobile device
Type into your smart phone browser: http://bforg.com/christmasatthefairmont
Become a Sponsor
If you or your organization would like to become a sponsor please complete our simple form and we will contact you.