THANK YOU for supporting SAY's innovative programs and help making everything possible for young people who stutter!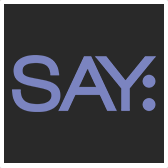 SAY: The Stuttering Association for the Young's auction is now closed.
You bid with your heart, and we appreciate it! Auction proceeds help kids and teens from families-in-need attend SAY programs - including Summer Camp, Speech Therapy and After-School Arts - to build the confidence they need to succeed.
SAY: Our Mission
To empower young people who stutter and inspire the world to treat them with compassion and respect so they can achieve their dreams.
SAY: Our Vision
A world where every voice matters
SAY: The Urgent Need
Over 70 million people stutter on a daily basis, including 5% of all children. Young people who stutter often face unimaginable fear and cruelty from a world that doesn't understand them. Over time, they may recoil from the world, silencing themselves to hide their stutter, embarrassment and shame. Young people who stutter may also feel incredibly isolated and alone, and many face daily ridicule, teasing and bullying.
SAY: Our Programs
Since 2001, The Stuttering Association for the Young, a non-profit 501(c)(3), has offered comprehensive, innovative programs that address the physical, social and emotional impact of stuttering, including:
Camp SAY

: Our sleep-away summer camp provides a uniquely fun, highly immersive and transformative experience for young people who stutter.

After-School Arts

: Our unique approach helps young people develop essential communication skills, forge new friendships and fully express their thoughts, ideas and dreams.

Speech Therapy

: We help young people who stutter build self-confidence, enjoy greater independence, increase school participation and advocate for themselves.
When you support SAY, you make anything possible in the life of a child who stutters. Learn more at www.SAY.org