Top Bidders
jp864d68d

$6,000
Say a big, gay "I Do" to a Charleston Destination Wedding

LGBT Social Justice Organization Auctioning Off A Truly Historic Celebration
Charleston, SC - Gay marriage may not be legal in South Carolina (yet), but there's one thing practically guaranteed by state charter: Charleston, SC throws historic parties.
This summer, the city's leading LGBT rights advocacy group is offering one lucky couple a wedding their guests won't soon forget. The Alliance For Full Acceptance has pooled the city's top wedding professionals to create an on-line auction for a complete destination wedding package.
Charleston - one of the world's top five wedding destinations - will roll out the rainbow carpet for an LGBT couple who offer the winning auction bid. Valued at over $45,000, the package includes wedding and event planning, hotel discounts, limo service, live entertainment, the cake and more.
Bidding will take place from July 10 to October 3, 2014 at BiddingForGood.com. All funds raised will help AFFA extend its reach, advocating for the rights of LGBT individuals in South Carolina.
Organizers note that while Charleston is evolving into an accepting community, marriage equality strides made elsewhere have not emerged in the South. "Tourism is the #1 driver of the local economy, and we are constantly ranked as one of the friendliest, with the most mannerly residents," said AFFA Executive Director Warren Redman-Gress. "So we think it's time for Charleston to show what we're really made of: acceptance for all."
The prize package is a wedding for fifty guests, to be held on January 24, 2015. Same sex couples will need to arrive in Charleston with a marriage license in hand.
Auction open from July 10 to October 3, 2014 only on Bidding for Good!
Say a Gay 'I Do' in Charleston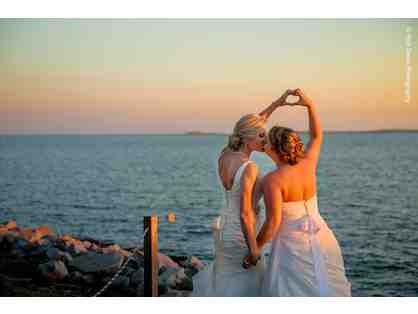 Say A Gay "I Do" in Charleston
Become a Sponsor
If you or your organization would like to become a sponsor please complete our simple form and we will contact you.