3rd annual Parents Night Out - Friday October 3rd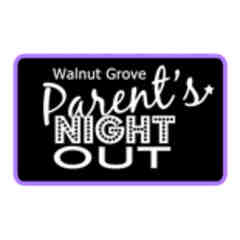 Our 3rd annual Parents Night Out event will be held on Friday, Oct. 3 from 7 to 11 pm at Handles Gastropub (855 Main Street) in downtown Pleasanton.
This will be a great night to catch up and socialize with your WG friends, teachers, and staff.
The $20 ticket price includes appetizers, a live band, a nonalcoholic drink (can be upgraded to an alcoholic drink for $3), and a raffle ticket.
The raffle prize is four (4) 1-day Disneyland Park Hopper tickets valued at $600!

There will also be a Wine Pull fundraiser at Parents Night Out from 8 to 9 pm. You can purchase one bottle of wine for $30 or 6 bottles for $150. Various gift cards will be included with some bottles.

All proceeds from Parents Night Out will go directly to our school, so please come out and join our Walnut Grove community at this fun-filled evening.

You can purchase tickets online or at the Walnut Grove front office. You will receive an email confirmation once your ticket has been purchased.

Reminder: Tickets at the door will be sold for $25.