Maritime Gloucester - Online Auction Fundraiser
Closes September 5, 2014 - 9:00 p.m.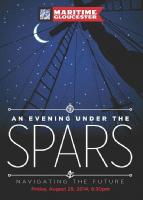 Maritime Gloucester is pleased once again to run an online auction in conjunction with our 10th Annual Evening Under The Spars Gala (August 29). We appreciate the several donated items and services from many individuals and businesses in our community.
Proceeds from the gala and this online auction support our efforts to inspire students and visitors to value marine science, maritime heritage and environmental stewardship through hands-on education and experiences.
Thank you for your support of Maritime Gloucester and happy bidding!
New Items Just Added!
Maplewood Car Wash Super Clean Detail
MAC Fitness 6-Week Membership
Octopus Paintings
Mariposa Dory Server