Merci to All Our Generous Bidders -

The auction is now finished

(as of 5/31/2015 9pm PST)

Merci for your bidding!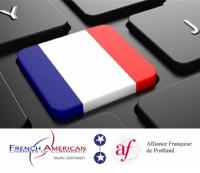 Merci to all our great bidders from over 20 states!
The auction team will take one to two days to process the end of the auction. We will check back with winning bidders to confirm shipment/mailing/pickup methods and account balances. We will include gift-acknowledgement letters for bids over value (those qualify for charitable tax deductions).
Thanks again to all for your support of this fundraiser!
Note that the following applies re: shipping arrangements:
Most items in the auction are certificates and/or gift cards that will be mailed to the winning bidders anywhere in the U.S.

Other items are physical (tangible) and can be picked up at our office in Portland, Oregon (1425 SW 20th Ave.) or at the FACC office in the World Trade Center in Seattle. We'll ship tangible items to U.S. destinations; the winning bidder will pay the packaging and shipping fees. (We use a local, trusted Postal Annex for this service.) We will confirm pickup dates/times and shipping with all winning bidders.

One exception: We will NOT ship the items in the wine/alcohol category. Those must be picked up at the Oregon or Washington locations.


All bidders must be 21 and over.

Winning bidders will settle their payments by Visa or MasterCard after the close of the auction.