The Seeing Eye's 8th Annual Online Auction is Now Closed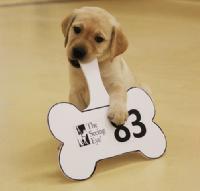 The Seeing Eye's Eighth Annual Online Auction closed with a dramatic finish as several bidders went right up to the final bell. Congratulations to all of the winning bidders!
Special thanks to:
• All of our generous donors and sponsors
• Everyone who participated and invited friends and family to bid
• Our dedicated families, constituents and community of supporters
This year's auction may be over but we invite you to stay in touch with us! Visit our official Web site at www.SeeingEye.org to sign up for our e-newsletter where you'll find out about our exciting upcoming events including The Dinner Party, on Thursday, June 23, 2016, Gran Fondo NJ Weekend on Sunday, September 11, 2016 and Doggy Dash in October 2016.
You can also follow us on Facebook, Twitter, or YouTube.
The Seeing Eye is truly grateful to our community and to all those who took part in our benefit auction. We thank you again for your generosity and for supporting our cause.
Thank you for your participation - we couldn't have done it without you!