Live Event
Thu Apr 27, 2017
6:30 PM - 8:30 PM EDT
The Zinc Bar Launch rocked! Congrats to all the winning bidders, & thanks to all who attended.

This is it - the last day to BID NOW! Our auction closes at midnight. Prices are slashed with discounted bids and buy now prices - everything must go! At a fraction of their value, you can feel good about getting a GREAT DEAL, while raising money to support our children.
Great deals that are: COOL FOR DAD.
Freaky Friday Find 6BR in Cape May/18% of full value
Awesome Art Blowout Lead bid is 15% of value!
Surprise Specials final $25 BUY NOW mystery item worth $80.
REGISTER! BID! SHARE! LIKE US ON FB! FOLLOW US ON TWITTER!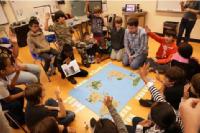 Support a Unique Public School: Our on-line auction is our biggest fundraiser. Proceeds of merchandise & services offered to the public supplement the school budget and support our sport teams, library, club activities, technology, class trips, and much more.
Register to start bidding, Share the Site with family, friends and colleagues across the globe. Visit often, as new items are added throughout the auction seaon. You can Donate Items to contribute to our catalog or download a Donation Form to use when soliciting items for the auction.
About Our School
Quest to Learn is a New York City, District 2, public school. The school is a collaboration between the Department of Education, New Visions for Public Schools, and the Institute of Play.
The learning community Quest to Learn supports extends far beyond the walls of the school, deep into the cultural fabric of the New York City, and beyond, across the globe. The school supports the kinds of connections required to knit together and leverage all the opportunities for learning that exist in a student's life, online and in the real world. Quest to Learn is committed to the ongoing development of partnerships with cultural institutions, social development organizations, companies and others to make learning live in the world and empower students to create their own opportunities.
Quest to Learn supports a uniquely vibrant learning community that brings together students, educators, game designers, curriculum specialists and parents. This community is committed to student success with a singular focus, but also recognizes that student success ultimately depends on the commitment of each and every community member to his or her own continuous learning and participation.
Give a little and get a lot in return.
Your participation is an invaluable part of our fundraising efforts. By donating an item or service directly online, you'll be helping to raise money for our organization, and you'll receive a mention on our site that can link back to your own web page.
Become a Sponsor
If you or your organization would like to become a sponsor please complete our simple form and we will contact you.