2017 Folk Art Benefit Auction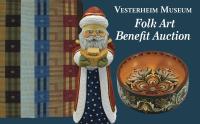 THANK YOU for making this a successful auction!!
We are very grateful to everyone who so generously bid, donated your artistic creations and treasures, and shared this opportunity with family, friends, and community to support Vesterheim's Folk Art School!
36 items sold which grossed $16,075

109 bidders with 730 bids
If you have any questions, one can use the email feature on this page to ask.
Thank you for your interest and participation and we hope that you will be part of the 2018 Folk Art Benefit Auction.