Donate Now
Top Bidders
msf406bda

$10,000

hsp880A

$3,962

margie14

$3,920

hc84834ae

$3,620

shaef7d62

$2,730

weslen1

$2,377

dellastreet

$2,321

michkarger

$1,812

ck05804b8

$1,768

bh8d02f61

$1,700
The Seeing Eye's 10th Annual Online Auction is Now Closed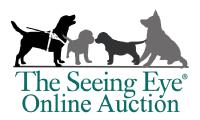 The Seeing Eye's Tenth Annual Online Auction closed with a dramatic finish as several bidders went right up to the final bell. Congratulations to all of the winning bidders!
Special thanks to:
• All of our generous donors and sponsors
• Everyone who participated and invited friends and family to bid
• Our dedicated families, constituents and community of supporters
This year's auction may be over but we invite you to stay in touch with us! Visit our official Web site at www.SeeingEye.org to sign up for our e-newsletter where you'll find out about our exciting upcoming events including The Dinner Party, on Tuesday, May 15, 2018, Gran Fondo NJ Weekend on Sunday, September 9, 2018 and Doggy Dash on October 7, 2018.
You can also follow us on Facebook, Twitter, or YouTube.
The Seeing Eye is truly grateful to our community and to all those who took part in our benefit auction. We thank you again for your generosity and for supporting our cause.
Thank you to our wonderful Sponsors! We couldn't do it without you!
TOP DOG SPONSORSHIP
Hardin, Kundla, KcKeon & Poletto
National Industries for the Blind
PERFECT PUP SPONSORSHIP
Advocate Investigative Agency, Inc.