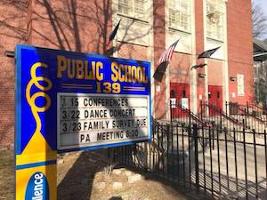 PS 139 Parent Association's 1st Ever
Silent & Live Auction Event
P.S. 139 is excited about the launch of our very first Silent and Live Auction fundraising event. The Silent Auction will run from May 1 through May 18 with a Live Auction Event that will take place on May 18, 2018.
P.S. 139 is a wonderful school in Ditmas Park, Brooklyn. Enriched by the cultural and socioeconomic diversity of our neighborhood, our school is comprised of nearly 1,000 students representing well over 20 languages and cultures. Students experience a global community in a school setting, forming friendships, learning how to resolve conflicts, and sharing common childhood experiences within an academic environment that nurtures their social and emotional development. We are a school that celebrates our diversity and individuality, and works together to build a positive, productive elementary school education for all.
As a Title I public school on a modest annual Parent Association budget of $30,000, we are proud to be able to provide enrichment opportunities and family events that include after-school clubs in performing arts, athletics, cooking, and gardening; a newly launched after-school competitive basketball team; a 15-year-old chess program that includes an after-school club and a local, state, and nationally competitive chess team; a P.A. community room for families to gather; an annual Multicultural Night event celebrating our students and families; and so much more. Each year, our P.A. remains committed to raising the funds needed to support our children and families at P.S. 139.
The Parent Association of P.S. 139 is a non-profit, 501(c)(3).
Please support our school by bidding on the items you like.
Thank you for your support and kindness.
Live Event Details
Fri May 18, 2018
6PM - 9PM EDT
PS 139 Alexine Fenty School
330 Rugby Road, Brooklyn NY 11226.
Add to My Calendar
Get Directions
Become a Sponsor
Place your company's logo on our site that links back to your own web page and you could develop new business. We can track how often your logo is viewed and clicked to see just how many people are accessing your site.