The Fishponds Of Hawaii By Carol Araki Wyban Online Auction Is Open!
The Fishponds Of Hawaii By Carol Araki Wyban Online Auction is now open. The auction will run from July 1, 2018 to July 16, 2018, with proceeds going to the Volcano Art Center in order to support, develop, promote and perpetuate the artistic, cultural and environmental heritage of Hawai'i's people through the arts and education. This mixed media fine arts online auction presents ancient Hawaiian fishponds as cultural treasures that provide a deep and profound insight of ancient Hawaiian perspectives in relation to their environment. The land-to-water management system of the ahupua'a and fishponds can teach us how to manage our natural resources today. Pen and ink drawings and original paintings by Wyban share a deep understanding of types of ponds, fish, technology and legends.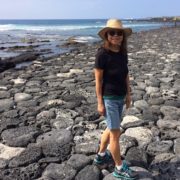 Since childhood, Carol Wyban wished to be an illustrator. Illustrations of world mythology were a constant inspiration and later, the written works of Joseph Campbell led Carol to study art, psychology and dance at the University of Hawaii. Her studies and life changed when she met and married Jim, a fish biologist in the completion phase of his PhD. In 1981, the opportunity arose for them to sub-lease a fishpond and small plantation house at Lokoea in Hale'iwa on O'ahu. There they caught fish using technology that was developed by the ancient Hawaiians. "At these times, it was as if we stepped through a window in time, blessed by this fishpond that was used across centuries. The following morning we could be found selling fish at the city and County Open Market out of a van in a parking lot," explains Carol. Jim researched history, production and worldwide applications. Carol researched culture and mythology, combining through museum archives searching for maps, early missionary diaries and letters, creating pen and ink drawings to serve as educational and lecture tools. After leaving Lokoea fishpond, Carol wrote and illustrated a book, Tide and Currents: Fishponds of Hawaii, produced by Na Maka o ka Aina and her studies and plans are available in the Hawaii State Public Library System.
Let The Bidding Start!
Now is your chance to help the Volcano Art Center as our community and surrounding communities continue to be affected by the ongoing lava activity. The Volcano Art Center Gallery is still forced to close its doors inside the Volcanoes National Park. As we continue our efforts to support our local artists at our Niaulani Campus we also offer you the chance to bid on unique Hawaiian cultural treasures. Each and every bid and donation placed helps to support our organization and mission. Enjoy Bidding!
If you have any questions, please feel free to contact gallery@volcanoartcenter.org.