Links
Top Bidders
juc514692

$5,600

sma27eadf

$1,525

aw3532b92

$1,000

rdf34f6e0

$770

bsfb34f4c

$490

ssd031c5a

$392

cf5f4a736

$330

iw909da18

$320

je938e08e

$310

sl4985f79

$200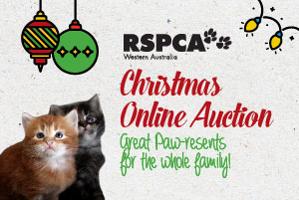 This auction is now Closed! Thank you for taking part!
The 2018 Christmas Online Auction was a great success. Thank you all for taking the time to support RSPCA. Congratulations to everyone who:
placed a winning bid
generously donated an item for auction
invited family, friends and community to make their bid to build a better world
All proceeds are allocated towards rescuing, rehabilitating and rehoming animals in need throughout Western Australia.