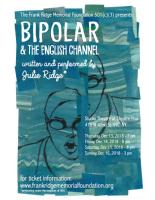 POP UP 5-day-only Pre Holiday Auction
December 3 through December 8, 2018 ONLY!
For those of you who were unable to grab some of our great holiday treasures during our recent November auction and for those new to our 501(c)3 non-profit organization, the Frank Ridge Memorial Foundation, Inc. is holding a pre-holiday POP UP five-day-only auction.
We've got beautiful Broadway original autographed show posters & theatre memorabilia; rare collectibles; fun toys; boat loads of books; and more. Your purchases support our non-profit, dedicated to living well with mental health conditions through awareness and understanding and the presentation of our FREE Actors' Equity Staged Reading, BIPOLAR & THE ENGLISH CHANNEL, playing December 13, 14, 15 and 16, 2018 at an off-Broadway theatre in New York, NY. This production supports our mission and is a celebration of our 5th Year Anniversary.
The Frank Ridge Memorial Foundation, Inc. was founded in December 2013 in memory of my father Frank Ridge. We have accomplished our mission annually by:
Delivering enjoyable individual learning seminars and 4-part seminar series entitled CONNECTING DOTS. Through film, open conversation and resource-rich take-home materials, our seminars explore the complex world of mental health diagnoses. As a NY State Education Department approved provider of Continuing Education credits for all Mental Health Practitioners and Social Workers, we keep our costs low in an effort to offer fun, interactive, high quality learning seminars - enhanced by film and resource-rich take-home materials.
Offering meaningful part-time employment opportunities for individuals managing mental health issues.
Providing opportunities for people with disabilities and mental health concerns to share and sell their art (e.g. photography, painting, drawing, music, film).
Maintaining our up-to-date, user-friendly, resource-rich website which includes: recommendations for literature and films that compassionately portray mental health conditions; recommendations for accurate, up-to-date web sites; and reliable hotline numbers for those at risk of suicide.
Please help us raise the $5,000 we need to break even again this year! We are grateful to Broadway Cares/Equity Fights AIDS for their tremendous support, Quality of Life grant and donations of show posters. To see more about what we do, visit us at: www.frankridgememorialfoundation.org. We thank you for donations large and small and wish you all a healthy, happy, warm holiday season.
note: all winnings will be shipped the week of December 17 and arrive in time for the holidays. Thank you!