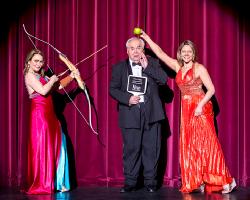 The ONLINE portion of our Auction for the Arts 2019 is now closed! We look forward to seeing you at the LIVE event this Thursday, May 30 at 6PM!
The online portion of the Auction for the Arts 2019 was a great success! Thank you to everyone who visited the site and a big congratulations to those who were the lucky winning bidders of the online-only gifts!
We look forward to seeing you at the LIVE event taking place this Thursday, May 30, 2019 at 6PM here at the Stadium Theatre where there will be hundreds more amazing items for your bidding pleasure.
And naturally, we'll save the best for last!
Be sure to stick around for the LIVE Auction with Auctioneer John Gregory as he entertains our audience in the Grand Hall beginning at 7:45 PM.
Whatever you choose to bid on, the LIVE event is sure to be entertaining as John Gregory outdoes his auction-calling game!
Live Event Details
Thu May 30, 2019
6PM - 9PM EDT
Stadium Theatre Performing Arts Centre
28 Monument Square, Woonsocket, RI 02895
Add to My Calendar
Get Directions
This year's Auction for the Arts will feature a Silent Auction beginning at 6:00 PM and will be held in the theatre's lobby, Marquee Room and Grand Hall. Local restaurants in support of the Stadium Theatre will provide complimentary delicacies for your enjoyment, and we will have two cash bars open to serve you. At 7:45 Mistress of Ceremonies Cathy Levesque and our Auctioneer extraordinaire John Gregory will open the exciting Live Auction where there will be an array of exciting items to bid on.
We wish to thank the generous restaurants that will provide their delicacies to our guests, and they include: Kay's Restaurant, The Lodge Pub & Eatery, Ciro's Tavern, Edible Arrangements, Olly's Pizzeria, Parma Ristorante, River Falls,
Savini's Pomodoro, Tavolo Wine Bar & Tuscan Grille, Texas Roadhouse, The Village Haven, and Wright's Dairy Farm & Bakery!