The YGP Auction how ended. Thank you for your participation!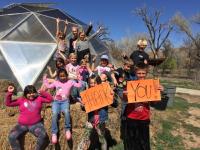 Congratulations to everyone who placed a winning bid! You will be recieving an email with more instructions on how to collect your items.
If you are a winning bidder, your credit card on file will be charged March 27-29. Paying by check or cash does save the Youth Garden Project credit card transaction fees, so if this is convenient for you, please email Kate at kaitlin@youthgardenproject to let us know your preferred payment method.
Thank you to everyone who generously donated to YGP through the online auction! The support of so many businesses and individuals is greatly appreciated.
If you didn't get a chance to bid or were outbid on your items at the last minute, but would still like to donate to YGP, simply click here. Thank you!
Be sure to follow us on Facebook and Instagram to hear about all the programs and events happening throughout the year at YGP!
Become a Sponsor
If you or your organization would like to become a sponsor please complete our simple form and we will contact you.