Top Bidders
mr5dcfe5f

$1,790

bk3574c3c

$1,187

wam2020

$1,072

miha8490klngd

$923

jl25c93c2

$791
2019 Auction Is Closed! Thank you for your participation!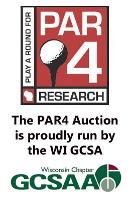 The 2019 PAR4Research Online Auction is now closed. Thank you for taking the time to point, click and bid in order to support the WGCSA in raising money for turfgrass research at UW-Madison. Congratulations to everyone who:
placed a winning bid
generously donated an item for the auction
invited family and friends to participate
All winning bidders will be notified of golf packages that have been purchased and will be mailed the appropriate passes/certifcates so they may redeem golf/prizes promptly!
This years auction has concluded, but our mission continues!
Even though our auction has ended, our organization will continue to support the Turgrass Research that is conducted each year at the University of Wisconsin.
Since 2010 The WGCSA has been able to donate 100% of the profits from this Annual Auction. To date we have been able to donate over $85,000.00 to research that helps all golf facilities and golfers throughout Wisconsin and beyond.