Donate Cash
Auction Links
Top Bidders
sfccbaa96

$456

cc1613dc5

$454

sbbthatsme

$415

tmoorf

$388

fs497826b

$324

sg04a9e98

$281

rw6d387bd

$279

mdd67604f

$270

bethne

$267

gjd5150

$231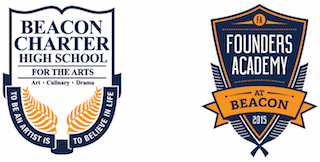 Beacon Charter Schools
presents
Back to Beacon Weekend!
On Saturday, September 28, 2019, Beacon Charter Schools will hold our first ever "Back to Beacon Weekend" to celebrate the achievements of our student artists, faculty, and staff as well as recognize the accomplishments of others in the community.
This year's main event takes place at the Roger Williams Park Casino, 1000 Elmwood Avenue, Providence.
It's been an amazing year! Our schools continue to be among the most successful charter schools in the state and our arts programs earn more critical acclaim each year.
This event serves as our primary fundraiser as well as a homecoming event to welcome back our school's alumni. The funds raised at our silent auction are critical to sustaining the high quality of our arts and academics programs. The event will be catered by Pranzi catering, with hors d'oeuvres and desserts prepared by our wonderful culinary student artists. Although the online Silent Auction will open on September 14th, we encourage everybody to attend the event, to get the full experience of the sit down dinner and fun.
WHAT'S NEW IN 2019?
We have moved our event to the beautiful Casino at Roger Williams Park. This year's event also features live music and a sit down dinner. There will also be a VIP champagne reception.
This year's honorees include:
Vanguard of the Arts: Lynn Singleton, PPAC

Community Partner: Woonsocket Parks and Recreation Department

Distinguished Alumna: Amber Martin '08

Spotlight Artist: Peter Thornton
SPONSORSHIP OPPORTUNITIES
If you would like to sponsor the event, or purchase tickets, please click on "order tickets" below.
Support Our Event.
If you'd like to make financial donation, please click on the appropriate buttons to the right.
For questions about sponsorship & donations, please email: mskeldon@beaconart.org
Live Event Details
Sat Sep 28, 2019
5PM - 8PM EDT
Casino at Roger Williams Park
1000 Elmwood Avenue, Providence, RI
Add to My Calendar
Get Directions
Tickets required.
5:00 pm - Cocktails, Hors d'oeuvres and Item Preview (for VIP and Dinner guests only)
6:00 pm - Dinner (for VIP and Dinner guests only)
7:00 pm - Auction floor open; Desserts for all guests
7:30 pm - Honors
8:30 pm - Auction closes
Heavy hors d'oeuvres and desserts will be made and served by our culinary students. Dinner by Pranzi Catering. Cash bar. Entertainment provided by the Timeless Band.
THANK YOU TO OUR SPONSORS !
Roger Singh with Innovation Plaza
_________________________________
Providence Performing Arts Center
_________________________________
BankRI www.bankri.com
_________________________________
Saccoccio & Associates www.sa-architects.com
__________________________________________
Community Care Alliance www.communitycareri.org
_________________________________
Navigant Credit Union www.navigantcu.org
_________________________________
Dupuis Oil www.dupuisenergy.com
_________________________________
Rep. Brian C. Newberry and Pure Haven by Beth Newberry
www.purehaven.com/bethnrewberry
_________________________________
Mr. Rich Paolo
_________________________________
Peter Boland & Martha Enamorado
_________________________________
Mr. Thomas Dickinson www.appealri.com
_________________________________
Pauly Penta's Italian Deli www.paulypentasdeli.com
_________________________________
Hunter Insurance www.hunterinsurance.com
_________________________________
Central Falls Firefighters www.centralfallsfire.com

_________________________________
Dean Bank www.deanbank.com
_________________________________
Pawtucket Credit Union www.pcu.org
_________________________________
Woonsocket Police Union IBPO Local 404
_________________________________

Herff Jones www.herffjones.com
_________________________________
Frank Tweedie