Live Event
Sat Oct 19, 2019
10AM - 4PM EDT
Top Referrers
Sharon Phillips

61

Shadi Nahvi

8

Sara Shah

7

Inie Park

5

Stacy Le Melle

3
Refer Your Friends
Support Manhattan Country School's
2019 Farm Festival Online Auction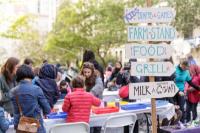 Manhattan Country School in New York City is pleased to offer an online auction for the 2019 Farm Festival. Bidding will be available from October 15-24. The proceeds will support our sliding-scale tuition model that allows families to pay tuition in proportion to their financial means and fosters a school community that is one of the most diverse in New York City.
At Manhattan Country School, students in pre-K through eighth grade are members of a collaborative learning community that has been a model for both progressive education and socioeconomic, racial and ethnic diversity since its founding in 1966.
The school's Farm Festival is an annual street fair and community fundraising event that will take place on October 19, 2019, from 11 a.m. to 4 p.m. If you are in Manhattan, please join us for a day of food, games and entertainment!
To learn more about Farm Festival and Manhattan Country School, please visit farmfestival.nyc.
WHAT THIS AUCTION OFFERS:
Auction items range from vacation getaways to services, tickets, gift cards and unique items. Please help us make this auction a success by sharing the auction details with friends, family and colleagues.
If you have questions about the auction, please contact the Farm Festival Auction Chair at vanessapotkin@gmail.com.
INSTRUCTIONS ON HOW TO BID:
In the upper portion of the page, click on "Register to Bid" and fill in the form to create a username and password to use during the auction. As you do this, keep in mind that your username will be visible to the community.