Donate Cash
Auction Links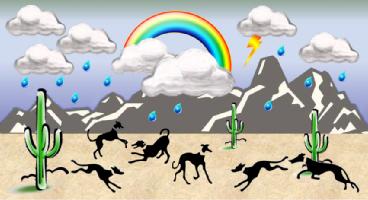 THE MONSOON BROUGHT MORE THAN RAIN... IT BROUGHT 5 NEW HOUNDS!
Here are the AGR dogs that joined our family in July. All five have adopters! Click on their pictures to learn more about them.
Arizona Greyhound Rescue is having a Fundraiser and Auction to create a Monsoon Storm of donations, and raise $10,000 by the end of this monsoon season! Please help us with our challenge!
We kicked off our Monsoon Madness 2019 Fundraiser and Auction with Tucson International Airport's Employee Community Effort (AECE Committee)! For the 5th Year in a row, AECE has thrown a fabulous party with a hamburger and hotdog lunch prepared by Airport Fire Personnel.
You can join the party too by showing us a flood of donations to help with our bills for ALL our hounds, including our 5 new hounds. With your help, we can make sure they are healthy and ready for their forever homes.
The objective is to "paint" the monsoon picture by donating Rain Drops, Clouds, Lightning, Umbrellas, Rainbows, and Greyhounds. Each donation adds a new item to the scene below. Let's build a Greyt Monsoon Storm by the end of the monsoon season.
AND you can bid on our fabulous auction items! Auction items will be added... like the almost life-sized Greyhound Bus Hound (pictured here)! Items range from exotic vacation getaways to donated items guaranteed to delight and surprise. So, tell your friends, family, and community.
Now is your chance to not only get all the great items you want, but to do it knowing you are helping support our organization and mission. With 5 new hounds joining our family, you can help us get them ready for their forever homes.
Don't forget... Monsoon Madness and the Bidding for Good Auction end Friday, September 6th!
Add To Our Monsoon Madness Desert Scene and Support Our New Hounds!