Live Event
Sat Oct 5, 2019
6PM - 11PM CDT
Donate Now
Top Bidders
ACTurner80

$2,550

jpa3655c4

$2,500

fld2b41bd

$2,009

highroller1

$1,022

rh7d4a8f8

$963

vietneck2

$637

jw7b2c9b7

$629

boolieton

$622

paoflorez

$560

Blindside

$552
SILENT AUCTION IS CLOSED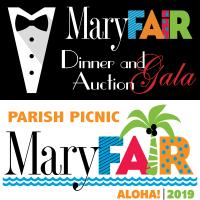 Thank you for your support of MaryFair 2019! If you purchased a ticket, shopped at our online auction, purchased a spot at a "Place to Be" party or made a donation, you have contributed to our cause and we are grateful.
Please remember that all items must be picked up in person at the Church of Saint Mary on Wednesday, October 9th, 7:30 a.m. - 6:00 p.m. Item Distribution will be held in the Saint Anne Room of the church, located just inside the Beckerle Hall entrance off the north west parking lot.
If you purchased a spot at a "Place to Be" Theme Party you will not need to collect anything, but will be contacted by your party hosts with a purchase confirmation within the next few weeks.
Thank you!