SAVE THE DATE FOR SPRINGFEST 2020!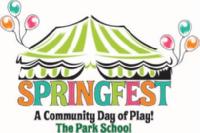 Sunday, May 17, 12 – 4 p.m.
The Countdown to Springfest is on! Mark your calendars for Sunday, May 17 from 12 p.m. - 4 p.m. Rain or shine event!
Springfest is around the corner, and we need your help to make our community day of play a success! Please click here to volunteer for a shift. There is an expectation that every family will contribute time. Thank you for honoring Park's tradition of volunteering!
Contact Springfest co-chairs Angela Smith, Jen Hewitt, May Hara, and Miriam Gorman with any questions.
THE SILENT AUCTION is the Parents' Association's biggest fundraiser of the year and funds initiatives supporting Student Enrichment, Faculty Support and Community Building. The goal of the Springfest Silent Auction is to raise money for the PA while building community. In order to acheive this we need your help! Donations will be accepted through May 17th. Online bidding opens Sunday, May 3rd at 8 a.m. and closes Sunday, May 17th at 9 p.m. Please contact auction co-chairs Christine Ayash and Patricia Rea with any questions, or click here to donate online. Click here to learn what your support funds.
KIDS RAFFLE is always a Springfest highlight! There is a specific wishlist for raffle donations. If you have questions, or wish to donate, please contact raffle co-chairs Fiona Benenson, Andrea Chiang, Elizabeth Dunn, and Jessica Scherer. To buy raffle tickets, click here.
BIG TENT RAFFLE (21+) Enter for a chance to win one of three fantastic prizes. Buy as many tickets as you want for $20 each! Tickets are ONLY being sold online and sales close at 2:00 pm on Springfest Day, May 17th. Winners will be announced under the tent at 2:30 pm at Springfest. Purchase tickets here!