Live Event
Sat Feb 8, 2020
6PM - 11PM PST
Westin Mission Hills, Rancho Mirage
71333 Dinah Shore Dr, Rancho Mirage, CA 92270
Top Bidders
srcc3a22b

$869

ssc526293

$737

ef896363b

$720

jkagain2

$647

mj47a26bc

$590

csc475a23

$520

td5f588c1

$515

se5b586c6

$506

kc752f9fb

$500

mh98b8828

$495
Palm Valley School's Annual Gala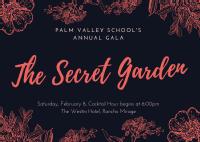 It's no secret...don't miss out on the biggest event of the year!
Palm Valley School's Annual Gala event will be held on February 8, at the Westin Hotel in Rancho Mirage from 6-11pm. This engaging event is one of our most-anticipated, and biggest fundraisers of the year! Proceeds from this annual event directly benefit all students, faculty, and important programs at Palm Valley School. Our ethereal theme of "Secret Garden" is being underwritten by one of our sponsors, Leon's Landscaping. Come experience a transformed ballroom where magic awaits! Signature cocktails, gourmet catering, silent and live auction items, and more. You don't want to miss it.
An open bar, special awards for alumni, faculty and volunteers -- all will feature on an evening of magic overseen by a professional auctioneer. The evening will also have a professional DJ who will help set the mood and keep the energy going throughout the evening. Everything is almost ready -- all we need is you. This event is a great opportunity to support our school and connect with other families in the community!