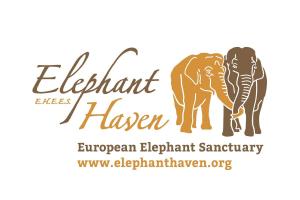 Former Circus and Zoo Elephants of Europe Need Our Help to Retire In Comfort!
AUCTION NOVEMBER 6 - 17, 2019
-- WHAT AN INCREDIBLE AUCTION WE HAD! --

US Friends of Elephant Haven European Elephant Sanctuary, working alongside the Elephant Haven founders Sofie Goetghebeur and Tony Verhulst, wish to extend their HUGE GRATITUDE to all who bidded and donated for our FIRST EVER fundraiser in North America. You guys just overwhelmed us all with your generosity and belief in this project to bring Europe's captive elephants to their forever home.
Elephant Haven is a registered charity in France, but is also a registered 501 (c) charity with the King Baudouin Foundation United States. This is an American public charity, founded in 1997, created with the sole purpose of enabling overseas charitable organisations to extend their fundraising activities to countries that support their work, without having the cost and administrative burden of setting up branches or sister organisations to fulfill the often complex tax and legislative requirements of cross-border fundraising.
Therefore all funds raised by Elephant Haven in North America will be SECURELY COLLECTED BY THE KING BAUDOUIN FOUNDATION USA, processed in compliance with the U.S.A. legislative and tax system, and forwarded to Elephant Haven in the most cost effective manner possible. Because every dollar counts!
If any bidders have any questions regarding payment or shipping, the EHEES Auction Team is here to help and we hope you thoroughly enjoy your items once they are shipped out to you all.
THANK YOU SO MUCH.
PLEASE NOTE:
THIS AUCTION IS HOSTED BY THE U.S. FRIENDS OF ELEPHANT HAVEN, A GROUP OF VOLUNTEERS DEDICATED TO RAISING SUPPORT AND AWARENESS IN NORTH AMERICA FOR THE EUROPEAN ELEPHANT SANCTUARY.
FOR THIS REASON, ALL ITEMS IN THIS AUCTION ARE AVAILABLE FOR SHIPPING ONLY WITHIN THE US AND CANADA.
100% of all proceeds will be donated to EHEES.
If you are outside North America you can still support our auction effort with a CASH DONATION by using the DONATE button at the top of this page. PLEASE MARK YOUR GIFT: "US FRIENDS AUCTION."
Cash gifts from U.S. donors are tax-deductible through EHEES, via the King Baudouin Foundation United States [501(c)(3) and 509(a)(1)].
PLEASE DO JOIN US OVER ON FACEBOOK - TOGETHER WE CAN BRING ELEPHANTS TO THEIR FOREVER HOME! US FRIENDS OF ELEPHANT HAVEN