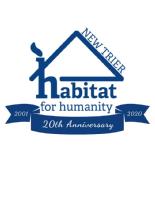 Special Auction for Habitat for Humanity!
Bid on VIP Parking at Parent Teacher Conferences. Winners will secure a reserved parking spot right next to the school in a monitored parking lot.
New Trier is auctioning off 4 VIP Parking Spots on both Wednesday and Thursday in the Tennis Court parking lot to raise money for the Senior Class Service Project - Habitat for Humanity. Be sure to choose the date when your conferences are scheduled (Wednesday or Thursday). Bidding closes at Noon Central Time on Saturday, November 16, 2019.


This is New Trier's 20th year of partnership with Habitat Lake County. All proceeds from this auction will go towards the service project. Thank you for supporting this great cause!
Winners will be notified on Monday, November 18.