Auction Links
Top Bidders
mfe592437

$122

tbbf17b4f

$71

M2Allard

$65

meems28

$55

mpowers9

$53

ladyjo55

$42

nw10441d9

$40

mf7459e0d

$39

gc367d8c3

$39

pp4373ef2

$38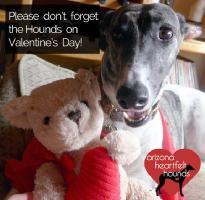 ARIZONA GREYHOUND RESCUE
is now known as
ARIZONA HEARTFELT HOUNDS!
To celebrate, we are having an auction fundraiser for our Golden Girl Valentine Hounds that arrived from Texas on February 1st.
We are auctioning off a number of fun and unique items to bid on to raise money for our Hounds. We have 4 new Golden Girls from Texas... Rose, Sophia, Dorothy, and Blanche. Your bids will help provide funds for their initial expenses so we can get them ready for their forever homes. You will also help us with the Hounds in our care now... Shepherd Book, Mistyblue, and Zoomie. AND we are getting more hounds very soon!
ALL ITEMS IN THIS AUCTION, UNLESS OTHERWISE NOTED, ARE NEW AND MAY BE SHIPPED VIA THE USPS OR UPS AT THE WINNING BIDDER'S EXPENSE. YOU MAY ALSO MAKE ARRANGEMENTS TO PICK UP YOUR ITEM(S) IN TUCSON WITHOUT EXPENSE.
BID EARLY AND BID OFTEN! WE COMBINE SHIPPING IF YOU WIN MULTIPLE ITEMS!
Arizona Greyhound and Animal Rescue Fund is rebranding as Arizona Heartfelt Hounds.
Our mission will not change - we will continue to make a difference in the lives of deserving Greyhounds and other Sighthounds. But our name will better reflect our reaching out even further to do more of what we've always done as AGR over the last 28 years.
Check out these items... Click on "View All Items" to browse through all our jewelry, artwork, and other greyt things.