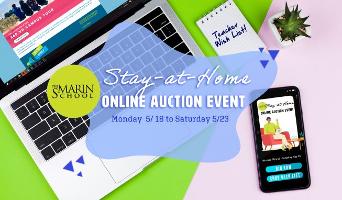 The Stay-At-Home Online Auction Event
CLOSES TOMORROW
Don't miss out! The auction closes Saturday, May 23rd at 5:00PM!
The online auction includes:
Over 90 items available for bidding
Teacher Wish Lists
Fund-A-Need
This year's Fund-A-Need will be to raise money for our COVID-19 Emergency Fund. The pandemic has affected our school community greatly and this fund will provide TMS with the necessary resources for current and future COVID-19 needs at our school.
These funds may be utilized in a variety of ways such as financial aid, costs of substitute teachers, transportation costs, cleaning costs, PPE and other medical equipment, teacher salaries and other related areas where the funds are needed during these unprecedented times.
We thank you for your support of The Marin School. Your partnership matters more than ever.
To offset expenses and ensure that your donation goes directly to TMS, a 3.5% credit card processing fee will be added to your total at the close of the auction. We thank you for your understanding.
Important Dates:
Monday, May 18, 2020 - The online auction opens.
Saturday, May 23, 2020 - The online auction closes.
The 2019-2020 Gala Commitee:
Stacey Bernardini, Jen Bonvechio, Andrea Coughlan, Carrie Crawford, Liz McDermott, Rebecca Drake, Alison Healy, Jen Marks, Kathleen McKeever, Kate Schermerhorn, Ilene Snyder, Jeni Vullings and Erin Wood.
Live Event Details
Due to the COVID-19 pandemic we have had to cancel our in-person Gala. Thank you for supporting TMS by participating in our online auction!
Thank you to our event sponsors!
Gold
Carol Scott, Realtor
Michael Ginther and Jim O'Donnell
The Kobinger Family
Silver
Element Public Relations
Jennifer Harris Marks, Realtor
These items are exclusive to TMS and have been generously donated or procured by TMS parents, faculty or staff!