Auction Links
Top Bidders
gw50f80d6

$2,101

ml8e30709

$520

Brat

$470

jg2e0df18

$360

tm2359c38

$335

jp14c8c44

$275

am87f8d60

$250

cwdd63ceb

$225

jc7a0f9eb

$200

mg97592e0

$200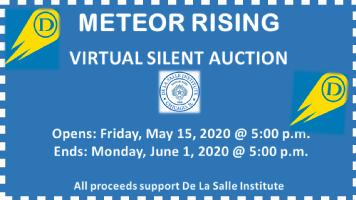 Meteor Rising Virtual Silent Auction
Greetings,
De La Salle Institute (DLS) is pleased that you have decided to join our Meteor Rising Virtual Silent Auction. This auction will open on Friday, May 15, 2020 at 5:00 p.m. and end on Monday, June 1, 2020 at 5:00 p.m. We hope that you will find something of interest to bid on during that time.
We have close to 50 packages for you to review and bid. You might find a new class to enroll, a family activity, an intimate space to gather with family and friends and much, much more. I encourage you to check the site frequently, more items will be added during the next two weeks!
As a reminder, all proceeds from the Virtual Silent Auction will support DLS. If you don't see anything you like, you can always support DLS by giving a donation.
Thank you for participating We are grateful for all of your support towards DLS at this time. We are thinking and praying for each of you. Happy bidding!
THANK YOU!
Please note: During these uncertain times, many businesses are not open due to the quarantine in place. DLS has indicated (where applicable) expiration dates. We encourage bidders to monitor the websites of businesses to determine when they will re-open for business to redeem winning items.
De La Salle wishes to thank ALL of our
Wonderful Sponsors!
We are EXTREMELY grateful and appreciative of the following businesses who were able to support our Silent Auction:
Beach Body
Be Yoga Andersonville
Chicago Field Museum
Chicago History Museum
Chicago Shedd Aquarium
Chicago White Sox
Chicago Zoological Society/Brookfield Zoo
Cooper's Hawk
Culaccino Bar + Italian Kitchen
De La Sallle Institute
Four Winds Casino
Franco's Italian Restaurant
Gleanagles Country Club
Hyatt Regency Chicago
Joffrey Ballet
Kid Snips
Kohl's Children Museum of Greater Chicago
Koval Distillery
La Colombe Coffee Roasters
Lookingglass Theatre
Lou Malnati's
Lucky Strike Bowling Alley
Medieval Times
Paramount Theatre
PRP Wine International
Raising Cane's
Ritz Carlton Chicago
Rosebud Restaurant Chicago
Sanders Fine Portraits
SciTec Hands on Museum
Steppenwolf Theatre
The Second City
Timeline Theatre
Triumph Books
Wines for Humanity
Whisky Acres