Live Event
Tue Dec 1, 2020
8AM - 11AM EST
Bid to Support Canada's Largest LGBTQ2S+ Centre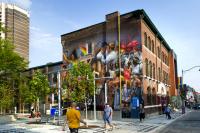 The 519 is a City of Toronto agency committed to the health, happiness and full participation of the LGBTQ2S communities. The 519 is doing everything we can to continue to respond to the urgent and immediate needs of our most vulnerable communities during the COVID-19 pandemic.
While the building remains closed to public and regular programming postponed in accordance with the City's decision, we are continuing to provide some essential services to support our communities and the neighbourhood in this time of crisis. Our services include free ready-to-go meals 7 days a week, and Friendly Check-in by phone or email.
Please donate to support The 519 continuing to provide these services for our most vulnerable community members.