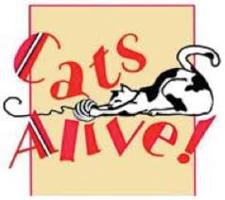 Welcome to the PawsWatch CatsAlive!
Online Auction!
PawsWatch will hold the 20th Annual CatsAlive! Auction to benefit efforts to help Rhode Islanders provide spay/neuter and vaccinations for community feral cats. Due to events being cancelled because of Coronavirus, our in-person CatsAlive! Gala scheduled for 2020 has been cancelled. We are ready to move forward with our new CatsAlive! Online Auction, which runs from October 16th through November 14.
An online auction is an ideal way to practice social distancing, have a little fun and support a great cause while our community is going through this difficult time. All donated items that would have been featured in our silent auction will be included in the Online Auction. As always, funds raised from the online auction will help PawsWatch with the cost of the Trap, Neuter, Return, Monitor program, which is the humane, effective approach to stabilize feral cat populations. Feral cats are humanely trapped, spayed or neutered, vaccinated, and eartipped (the universal symbol of a neutered and vaccinated cat), and then returned to their outdoor home. Socialized cats and kittens are adopted into homes. All animals adopted are spayed or neutered. Funds raised also assist with keeping our Community Cat Center guests healthy, warm and safe until their adoption into a loving, forever home.
Thank you to our Event Sponsor Paula Allin of HomeSmart Professionals and thanks also to our Platinum Sponsor Fillion Associates, Inc.
Please email Martine Ireland at pawswatch401@gmail.com if you are interested in becoming a sponsor.
For over twenty years PawsWatch has been active helping our communities address the free-roaming cat population. We are excited to host this online auction as a fun and easy way to help our feline friends and support the important work done by our dedicated volunteers. So please click and bid! Be generous! Please visit our website https://pawswatch.org/ and like us on Facebook at PawsWatch or PawsWatch at the Community Cat Center for more information.
Become a Sponsor
We have 4 Sponsor categories :
GOLD- $500 + Get your Business/Name on the Auction Site and also our website with your logo and a link to your website.
BRONZE- $250 -$499 Get your Business/Name on the Aution Site and also our website with you name and address.
SILVER- $100-$249 Get your Business/Name on the Auction Site and also business/name listed on our website.
FRIENDS OF PAWSWATCH-Under $100.00 Get your name listed on the Auction Site.